BUILDING AND SHRINE FUNDRAISING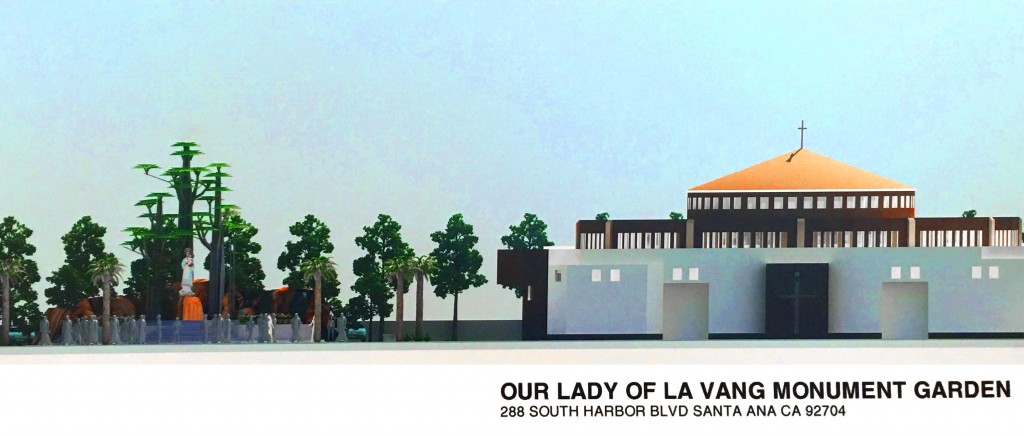 Why do we need to build the SHRINE and BUILDING
Welcome to Our Lady of La Vang. This is the year we celebrate our 10th year aniversary. Together our parish invite you to share our contribution especially a campaign for new building and Shrine of Our Lady of Lavang. God bless you.

Campaign from 2013 to 2017
PASTOR'S CORNER
Sunday, September 25, 2016.
Dear Brothers and Sisters in Christ!
Last Sunday, September 18, our Diocese of Orange held a big celebration for our 40th Anniversary of our founding. Bishop Vann celebrated the Pontifical Mass at Christ Cathedral with Bishop Tod Brown and many priests, religious men and women, and about 6, 000 faithful attending the Mass. God's love and blessings that He has bestowed upon our diocese during the past 40 years are immeasurable. Let us continue to carry Jesus' mission by being more committed to bring His love, peace, and joy to those who are hopeless and timid. Our parish bilingual Catechetical program, Spanish and Vietnamese, Vietnamese Language School, and Vietnamese Eucharistic Youth Movement have begun their weekly sessions. Again, I invite the parents to make your best efforts to bring your children to classes and mass on the weekend. On Saturday, October 1, at 5pm, we will have a special procession to honor the Blessed Virgin Mary for the month of the Holy Rosary, followed by a bilingual mass at 6pm. I hope all of the organizations, groups, and parishioners will participate in this special devotion in order to pray for peace in the world and peace in our families.
Sincerely yours in Jesus Christ and Our Lady of La Vang!
Reverend Joseph Luan Nguyen, Pastor
Weekdays
Monday 8:30 am: Vietnamese
Tuesday 8:30 am: Spanish
Wednesday 8:30 am: Vietnamese
Thursday 8:30 am: Spanish
Friday 8:30 am: Vietnamese
Saturday
Saturday 8:00 am: Vietnamese
Saturday 6:00 pm : Vietnamese & English
Saturday 8:00 pm: Spanish
Sunday
Sunday 6:30 am: Vietnamese
Sunday 8:30 am: Vietnamese
Sunday 10:30 am: Vietnamese
Sunday 12:30 pm: Spanish
Sunday 4:30 pm: English (Youth)
Sunday 6:30 pm: Vietnamese