BAPTISM
Our parish has monthly Baptism for Children (bilingual Vietnamese-English), from 7 years old and under, 2:00 PM – 3:00 PM, every Sunday in the second week of each month.
Mass Schedule
Saturday: 6:00PM (Vietnamese & English) Sunday: 4:30PM Youth (English)
Wedding
Download form and things to do before wedding at Our Lady of Lavang.
Funeral
Please contact Our Lady of Lavang Office (714) 775-6200, or our pastor Joseph Luan Nguyen, extension 201.
BUILDING AND SHRINE FUNDRAISING 
Why do we need to build the SHRINE and BUILDING
Welcome to Our Lady of La Vang. This is the year we celebrate our 10th year anniversary. Together our parish invite you to share our contribution especially a campaign for new building and Shrine of Our Lady of Lavang. God bless you.
Weekly Sponsors for

BUILDING AND SHRINE FUNDRAISING
Dinh T. Vinh $1,500
Ngo T. Tam $500
Minh Tam Pham $200
Vu Trong Hoang $200
Lang T. Nguyen $100
Ho Ngoc Pham $300
Binh Pham $100
Tony Hoang $100
Khanh The Tran $200
Norman Huynh $500
Loan Luu $350
Tuc Nguyen $100
David Huynh $200
Thu Nguyen $200
Phuong Tran $500
Hoa Nguyen $100
Tom Cao $200
Lan Nguyen $300
Ha Nguyen $5,000
Duong Ngo $200
Man Nguyen $100
Dien Hoang $100
Minh Tran $1,000
Lanh Vu $300
Cindy Nguyen $2,500
Cuong Tran $300
Howie Luong $500
Canh Nguyen $500
Tung Nguyen $300
Viet Tran $100
Luong Nguyen $100
Quang Vu $300
Hoang Tam Bao $200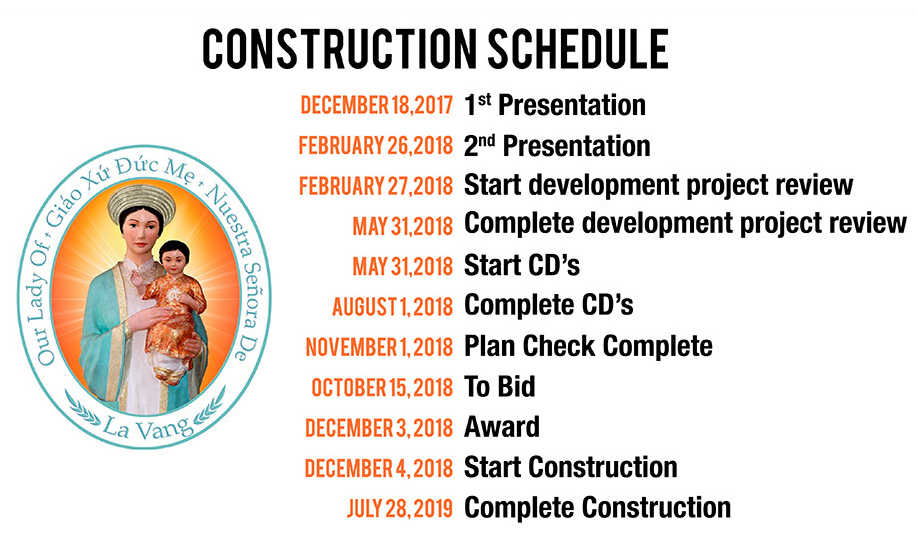 PASTOR'S CORNER
Sunday, June 17, 2018
Brothers and Sisters in Christ!
Today, we celebrate Father's Day. Let us thank almighty God for our earthly fathers who have loved us and sacrificed for each of us. Together with Father Timothy Nguyen, today we especially wish that all fathers of our parish be blessed with God's wisdom, love, peace, and joy. Take heed from the Book of Sirach, which says, "Whoever loves your father your sins will be forgiven, whoever honors your mother you have found the greatest treasure." If your father is sick, please spend some time to visit him. If he has died, please pray for him. Again, May God bless all our fathers with love, peace, and joy today and always. Tomorrow, Monday, our parish rummage sale will start. Please invite your family and friends to come and support us. Please continue to donate toward the construction for our new building and the grand Shrine of Our Lady of La Vang.
Sincerely yours in Christ and Our Lady of La Vang!
Reverend Joseph Luan Nguyen, Pastor
Happy Father's Day to all the Dad. May the Lord bless you and give you love, grace, and joy on this special day. We will have Novena for Father's Day throughout the whole month of June. The Novena envelopes are now available. Please fill out a novena envelope so we...
read more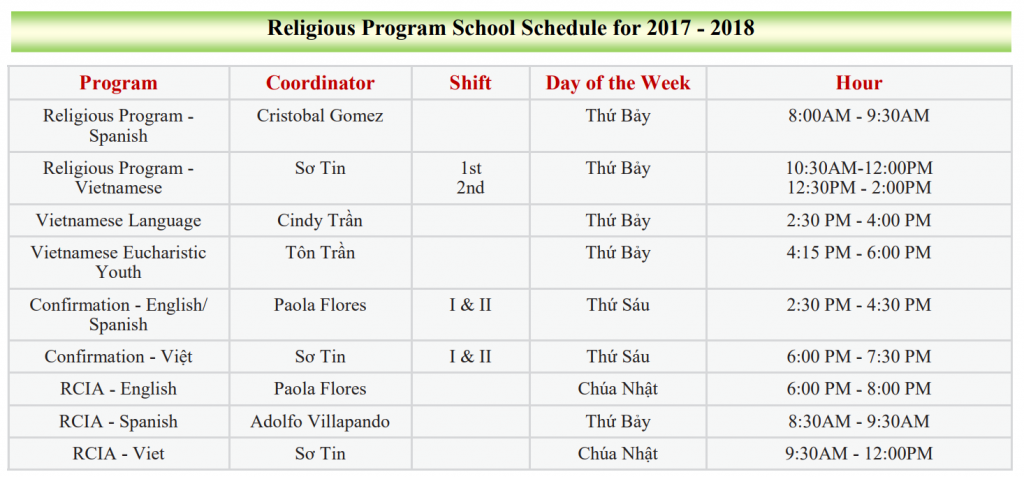 Weekdays
Monday 8:30 am:
Vietnamese
Tuesday 8:30 am:
Spanish
Wednesday 8:30 am:
Vietnamese
Thursday 8:30 am:
Spanish
Friday 8:30 am:
Vietnamese
Saturday
Saturday 8:00 am:
Vietnamese
Saturday 6:00 pm :
Vietnamese & English
Saturday 8:00 pm:
Spanish
Sunday
Sunday 6:30 am:
Vietnamese
Sunday 8:30 am:
Vietnamese
Sunday 10:30 am:
Vietnamese
Sunday 12:30 pm:
Spanish
Sunday 4:30 pm:
English (Youth)
Sunday 6:30 pm:
Vietnamese