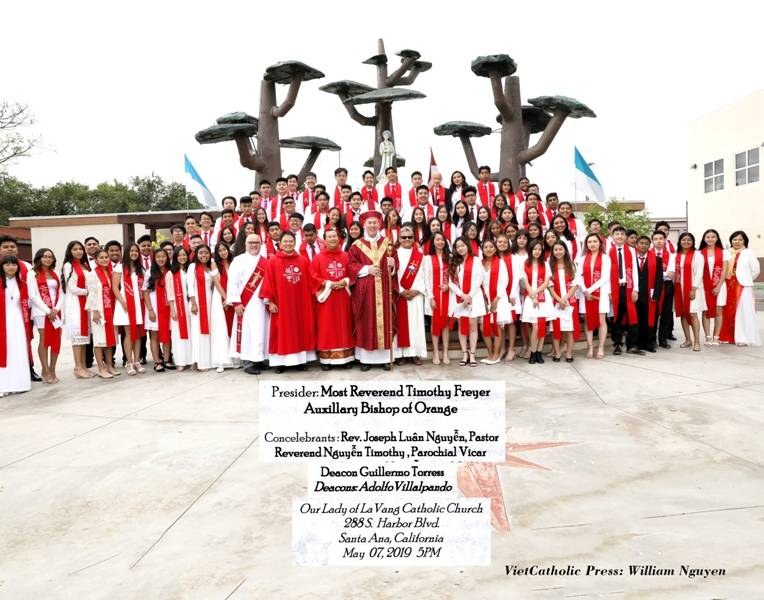 Congratulations to 92 students and their families in the Confirmation Program who have received the Sacrament last Tuesday. We have, again, celebrated one of the most beautiful gift of the Holy Spirit. Together, may the Holy Spirit gives these children and their families the strength to continue spreading the Word of the Lord.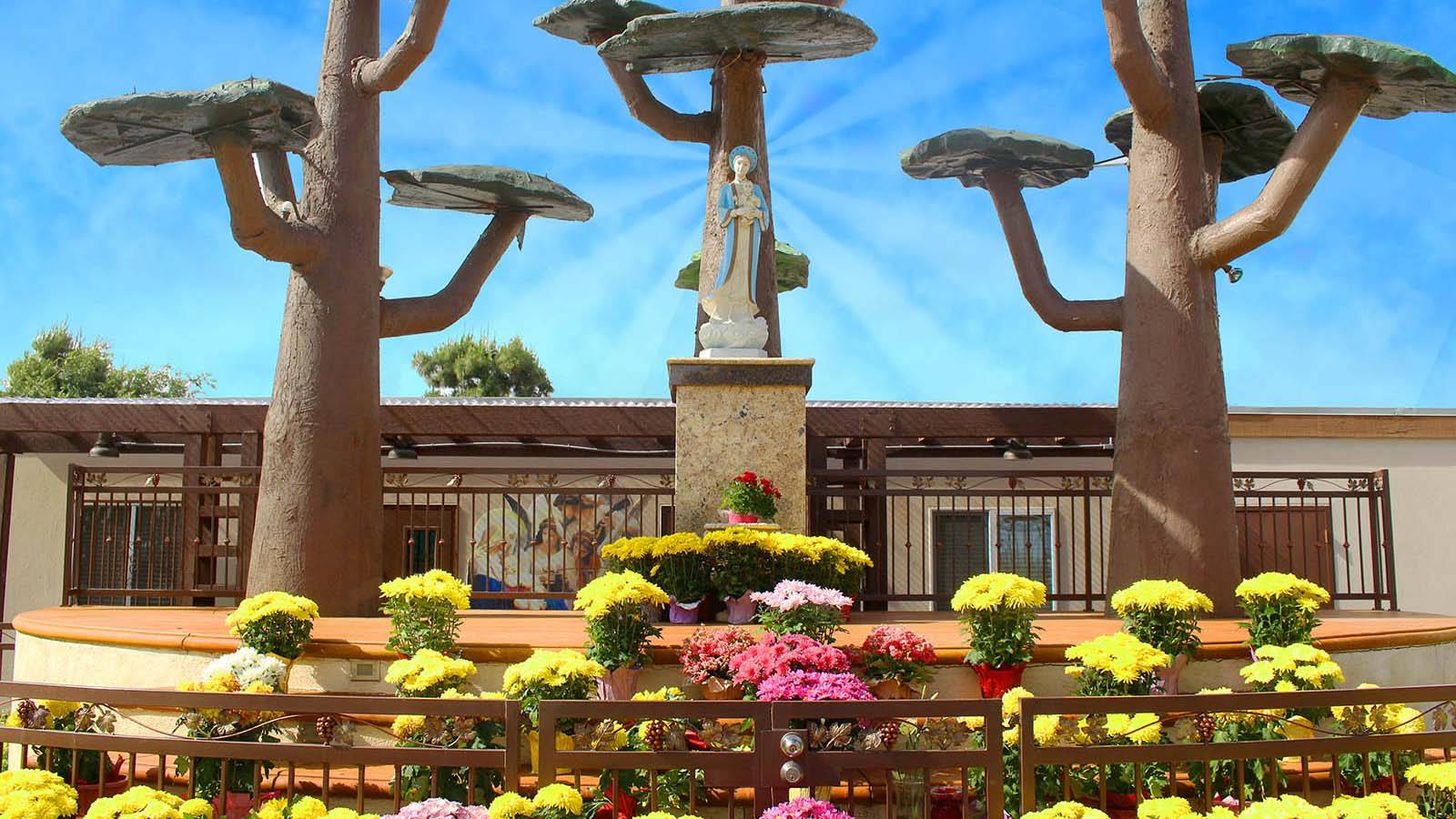 Welcome to Our Lady of Lavang

The Pastoral Services Appeal (PSA) is an annual campaign to support our parishes, schools and ministries in the Diocese of Orange. The PSA runs from January 1 to December 31 of every calendar year, and for the 2019 PSA, you have through December 31, 2019 to complete your pledge. Thank you for your generosity!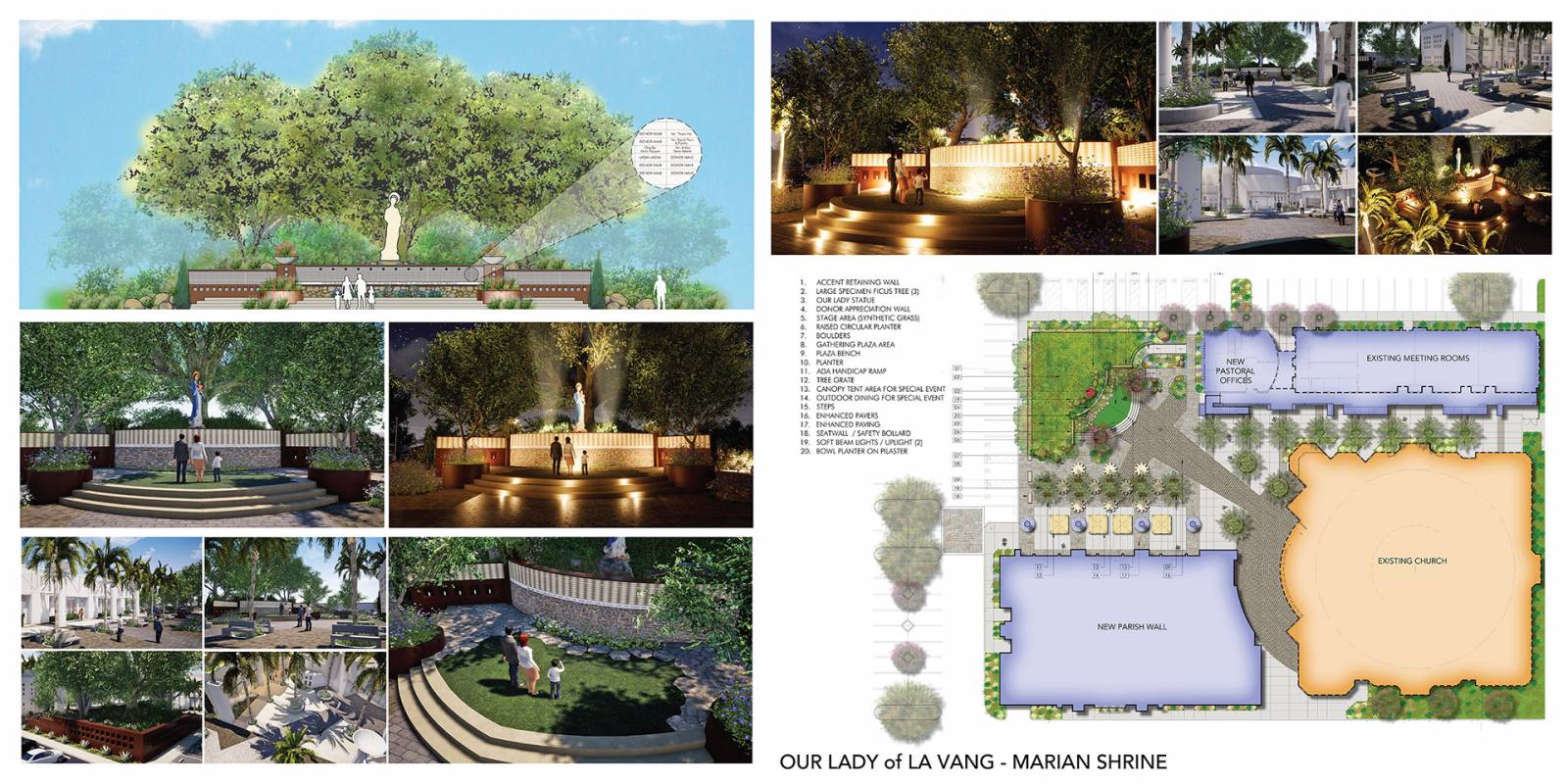 Our parish invite you to share our contribution for new building and Shrine of Our Lady of Lavang.
Confirmation
Mass Schedule
2019 PSA
Fundraising
BAPTISM
Our parish has monthly Baptism for Children (bilingual Vietnamese-English), from 7 years old and under, 2:00 PM – 3:00 PM, every Sunday in the second week of each month.
Mass Schedule
Saturday: 6:00PM (Vietnamese & English)
Sunday: 4:30PM Youth (English)
Wedding
Download form and things to do before wedding at Our Lady of Lavang.
Funeral
Please contact Our Lady of Lavang Office (714) 775-6200, or our pastor Joseph Luan Nguyen, extension 201.
PASTOR'S CORNER
Sunday, August 18, 2019
Dear Brothers and Sisters in Christ!
On Sunday August 25, 2019 at 3pm our parish will have raffle for 2019 Toyota Camry. I ask those who have not returned your raffle tickets that the parish sent to your home. Please put your donation along with your raffle stuffs in an enclosed envelope and return to the parish as soon as possible. Our parish needs your generous donations of the raffle tickets so please make a special effort to help our parish in this campaign. Registration for students of the Catechetical programs is open, so please register your children so they can learn about our faith and be committed to our Catholic traditions. Any adults interested to learn about the Catholic faith should call our office to register for our RCIA program! May God bless you always!
Sincerely yours in Jesus Christ and Our Lady of La Vang!
Reverend Joseph Luan Nguyen, Pastor
Văn Phòng Giáo Xứ sẽ đóng cửa thứ Hai ngày 2 tháng 9, 2019 nhân dịp ngày lễ Lao Động. Nhà thờ sẽ đóng cửa sau Thánh Lễ 8:30AM sáng. Các hội đoàn sẽ không họp mặt vào ngày này. Xin cảm ơn.
BUILDING AND SHRINE FUNDRAISING
Why do we need to build the SHRINE and BUILDING
Welcome to Our Lady of La Vang. This is the year we celebrate our 10th year anniversary. Together our parish invite you to share our contribution especially a campaign for new building and Shrine of Our Lady of Lavang. God bless you.
Weekly Sponsors for

BUILDING AND SHRINE FUNDRAISING
Mike Nguyen $1,560
Tobia Casket $1,000
Phuong Nguyen $300
Benny Binh Nguyen $210
David Huynh $200
Dam Pham $100
Duong Hien Tran $100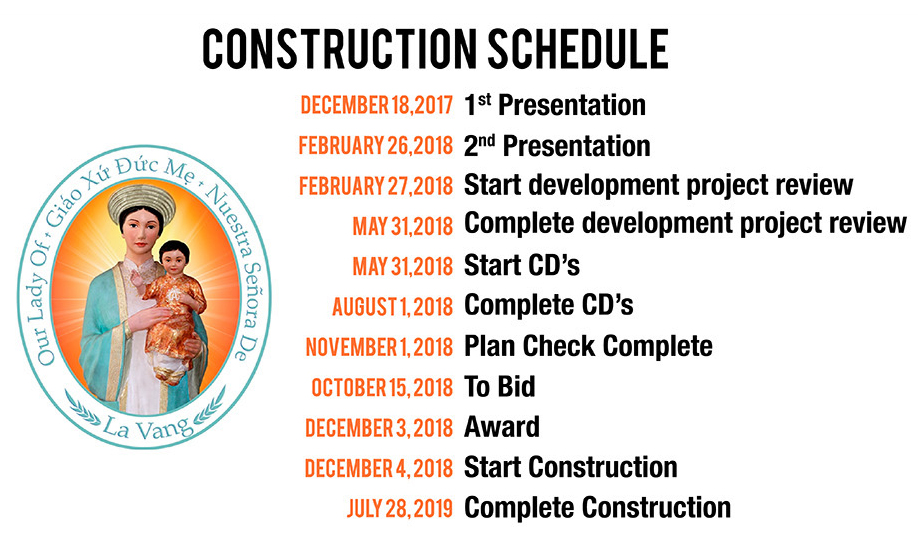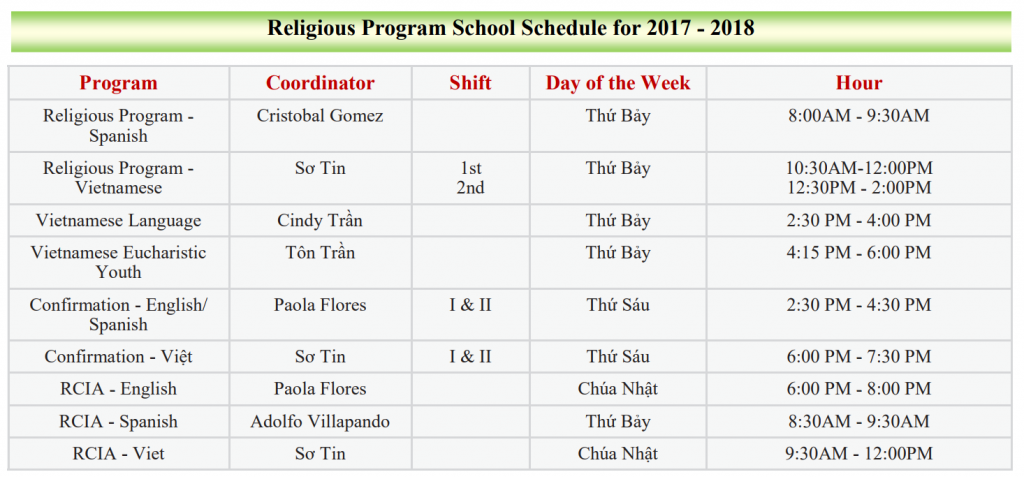 Weekdays
Monday 8:30 am: Vietnamese
Tuesday 8:30 am: Spanish
Wednesday 8:30 am: Vietnamese
Thursday 8:30 am: Spanish
Friday 8:30 am: Vietnamese
Saturday
Saturday 8:00 am: Vietnamese
Saturday 6:00 pm : Vietnamese & English
Saturday 8:00 pm: Spanish
Sunday
Sunday 6:30 am: Vietnamese
Sunday 8:30 am: Vietnamese
Sunday 10:30 am: Vietnamese
Sunday 12:30 pm: Spanish
Sunday 4:30 pm: English (Youth)
Sunday 6:30 pm: Vietnamese