BAPTISM
Our parish has monthly Baptism for Children (bilingual Vietnamese-English), from 7 years old and under, 2:00 PM – 3:00 PM, every Sunday in the second week of each month.
Mass Schedule
Saturday: 6:00PM (Vietnamese & English) Sunday: 4:30PM Youth (English)
Wedding
Download form and things to do before wedding at Our Lady of Lavang.
Funeral
Please contact Our Lady of Lavang Office (714) 775-6200, or our pastor Joseph Luan Nguyen, extension 201.
BUILDING AND SHRINE FUNDRAISING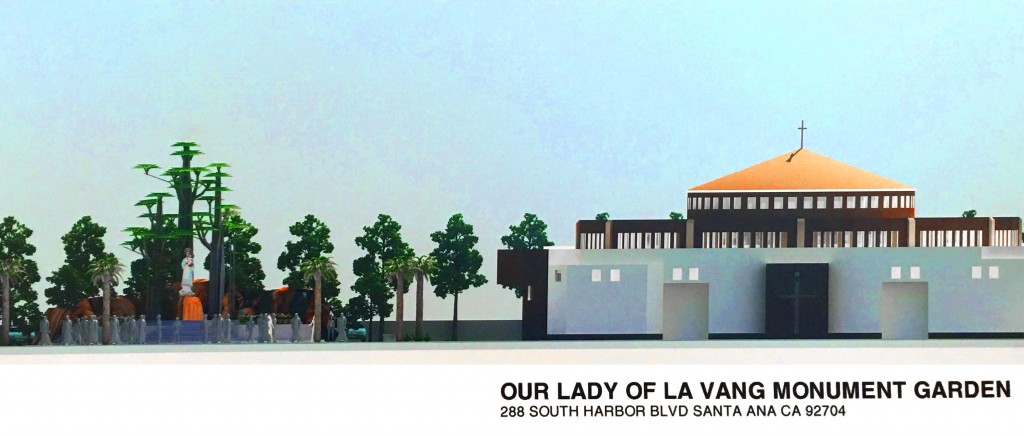 Why do we need to build the SHRINE and BUILDING
Welcome to Our Lady of La Vang. This is the year we celebrate our 10th year anniversary. Together our parish invite you to share our contribution especially a campaign for new building and Shrine of Our Lady of Lavang. God bless you.
PASTOR'S CORNER
Sunday of Divine Mercy, April 22, 2018
Dear Brothers and Sisters in Christ!
Last week on Tuesday, Bishop Kevin Vann came and confirmed 77 Confirmation students of our parish. They are full of the gifts of the Holy Spirit. I hope that the parents will continue to support your children in their faith journeys by encouraging them to attend mass on weekends, make regular daily prayers and to try to avoid the near occasions of sin.
Bishop Vann is still in need of our support for 2018 Pastoral Service Appeal, so please continue to support him with your best effort. We are also in need of your support for our parish projects, namely the new pastoral building and the Grand Shrine of Our Lady of Lavang. Please consider making your generous donations. May God, through the intercession of Our Lady of La Vang, bless all of you for your love and support for our parish!
Sincerely yours in Christ and Our Lady of La Vang!
Reverend Joseph Luan Nguyen, Pastor
May baptism will be held on Saturday 5/5/2018 at 3:30PM in Spanish, and on Sunday 5/13/18 at 2:00PM in Vietnamese. Please call the office for pre-baptismal class dates. Thank you.
read more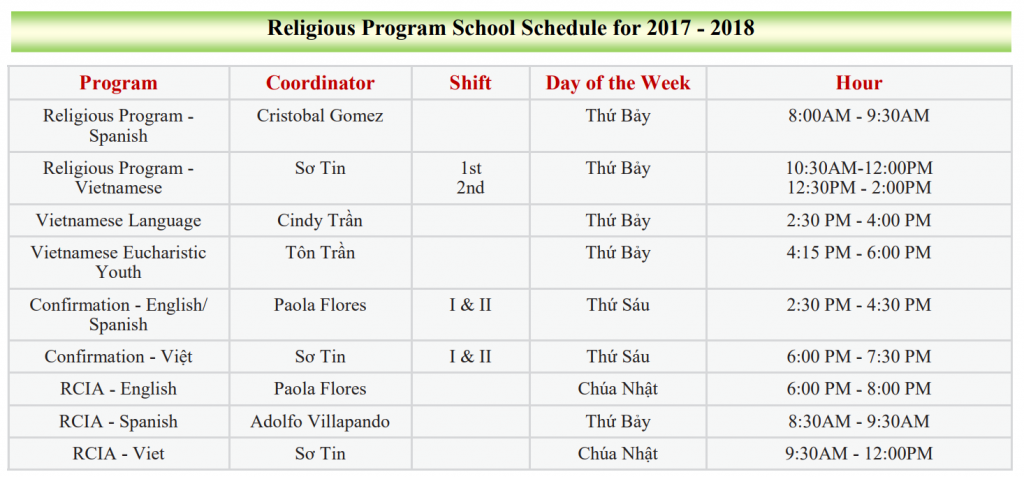 Weekdays
Monday 8:30 am:
Vietnamese
Tuesday 8:30 am:
Spanish
Wednesday 8:30 am:
Vietnamese
Thursday 8:30 am:
Spanish
Friday 8:30 am:
Vietnamese
Saturday
Saturday 8:00 am:
Vietnamese
Saturday 6:00 pm :
Vietnamese & English
Saturday 8:00 pm:
Spanish
Sunday
Sunday 6:30 am:
Vietnamese
Sunday 8:30 am:
Vietnamese
Sunday 10:30 am:
Vietnamese
Sunday 12:30 pm:
Spanish
Sunday 4:30 pm:
English (Youth)
Sunday 6:30 pm:
Vietnamese