BAPTISM
Our parish has monthly Baptism for Children (bilingual Vietnamese-English), from 7 years old and under, 2:00 PM – 3:00 PM, every Sunday in the second week of each month.
Mass Schedule
Saturday: 6:00PM (Vietnamese & English) Sunday: 4:30PM Youth (English)
Wedding
Download form and things to do before wedding at Our Lady of Lavang.
Funeral
Please contact Our Lady of Lavang Office (714) 775-6200, or our pastor Joseph Luan Nguyen, extension 201.
Why do we need to build the SHRINE and BUILDING
Welcome to Our Lady of La Vang. This is the year we celebrate our 10th year anniversary. Together our parish invite you to share our contribution especially a campaign for new building and Shrine of Our Lady of Lavang. God bless you.
Weekly Sponsors for

BUILDING AND SHRINE FUNDRAISING
Victor Vinh Nguyen $6,000
Lan T Tran $500
Hon Du $300
Nhan Nguyen $200
Hiep Nguyen $200
Sy Tran $200
Tinh T Nguyen $200
Kim Chi Tran $200
Chieu T Truong $200
Thang V Phan $150
Hung & Hong $100
Lem Pham & Trang Vo $100
Hung Nguyen $100
Thien Dinh & Yeu Vu $100
Hue & Nhi Nguyen $100
Ngoan Dang $100
Binh Pham $100
Chau Hoang $100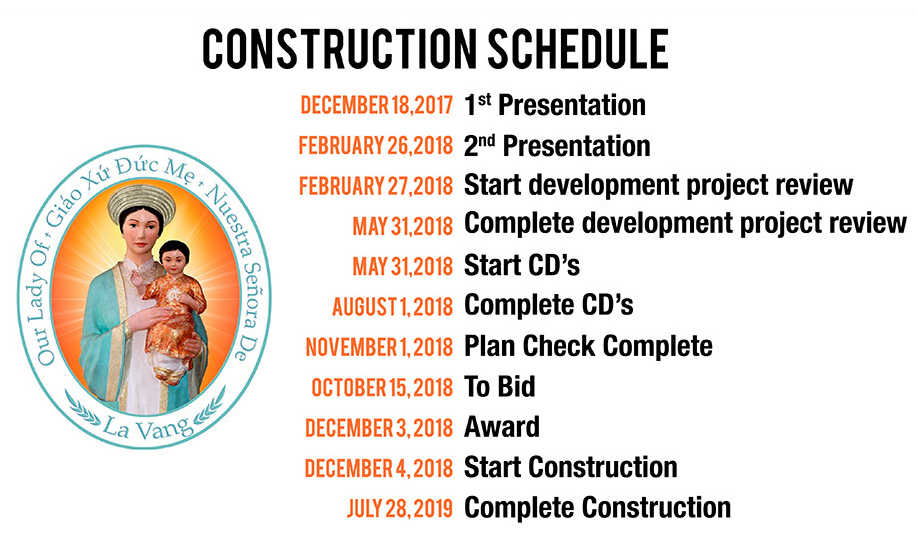 PASTOR'S CORNER
Sunday, December 9, 2018
Dear Brothers and Sisters in Christ!
Today the Vietnamese Catholic Women celebrate their patron saint the Immaculate of Mary. Together with Father Timothy, we want to congratulate our Catholic Mothers and we also want to express our special thanks to them for their love, sacrifice in helping our parish throughout the year. May God through the intercession of the Blessed Mary bless all the mothers of our parish. This coming Wednesday December 12 is the Feast of Our Lady of Guadalupe, the Patronage of our Diocese of Orange. Please come to celebrate Our Lady of Guadalupe and ask her to intercede for our diocese and our parish. I encourage you to help with PSA 2018 and our project for the New building and the Shrine of Our Lady of La Vang. May God through the intercession of Our Lady of La Vang bless each one of you with love, peace and joy!
Reverend Joseph Luan Nguyen, Pastor
To help us prepare the Altar for All Souls Day, please bring to the office a picture of your loved ones who have passed away so we can display their pictures and pray for them through out the month of November. Don't forget to write your name and phone number on the...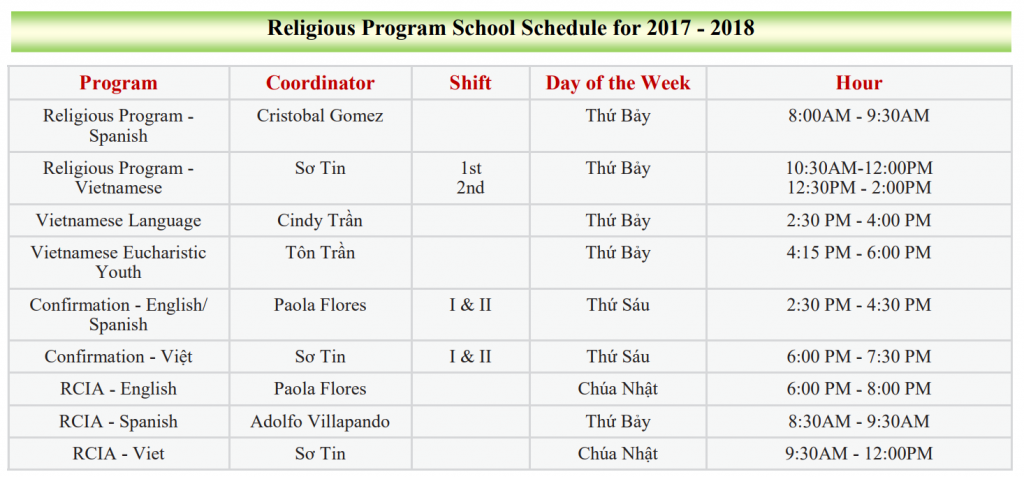 Weekdays
Monday 8:30 am:
Vietnamese
Tuesday 8:30 am:
Spanish
Wednesday 8:30 am:
Vietnamese
Thursday 8:30 am:
Spanish
Friday 8:30 am:
Vietnamese
Saturday
Saturday 8:00 am:
Vietnamese
Saturday 6:00 pm :
Vietnamese & English
Saturday 8:00 pm:
Spanish
Sunday
Sunday 6:30 am:
Vietnamese
Sunday 8:30 am:
Vietnamese
Sunday 10:30 am:
Vietnamese
Sunday 12:30 pm:
Spanish
Sunday 4:30 pm:
English (Youth)
Sunday 6:30 pm:
Vietnamese