BUILDING AND SHRINE FUNDRAISING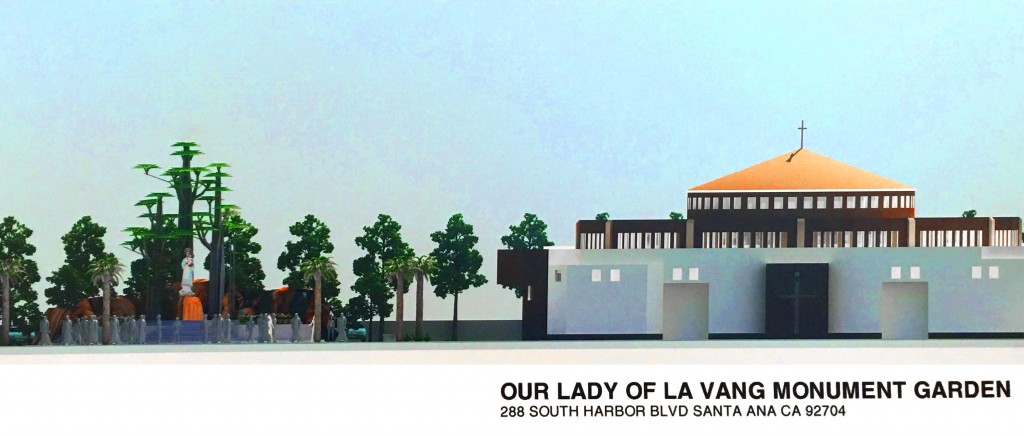 Why do we need to build the SHRINE and BUILDING
Welcome to Our Lady of La Vang. This is the year we celebrate our 10th year aniversary. Together our parish invite you to share our contribution especially a campaign for new building and Shrine of Our Lady of Lavang. God bless you.

Campaign from 2013 to 2017
PASTOR'S CORNER
Sunday, August 20, 2017
Dear Brothers and Sisters in Christ!
Today we celebrate 11 Years of the Dedication of Our Lady of La Vang Church. Together with Father Timothy, we give thanks to our heavenly Father for bestowing His love, joy, peace and blessings upon us over these past 11 years. Second, we also express our deepest appreciation to all of you, our benefactors, Vietnamese and Spanish Councils, organizations, groups, and parishioners who have tirelessly donated to our parish with your gifts, talents and financial support. We hope that you will continue to support us with our new building project and the Shrine of Our Lady of La Vang. With your continued support, we hope to construct our new building and the Shrine of Our Lady of La Vang in 2018. Again, we are grateful to all of you. May God, through the intercession of Our Lady of La Vang, bless each one of you with love, peace and joy! Happy 11th Anniversary!
Reverend Joseph Luan Nguyen, Pastor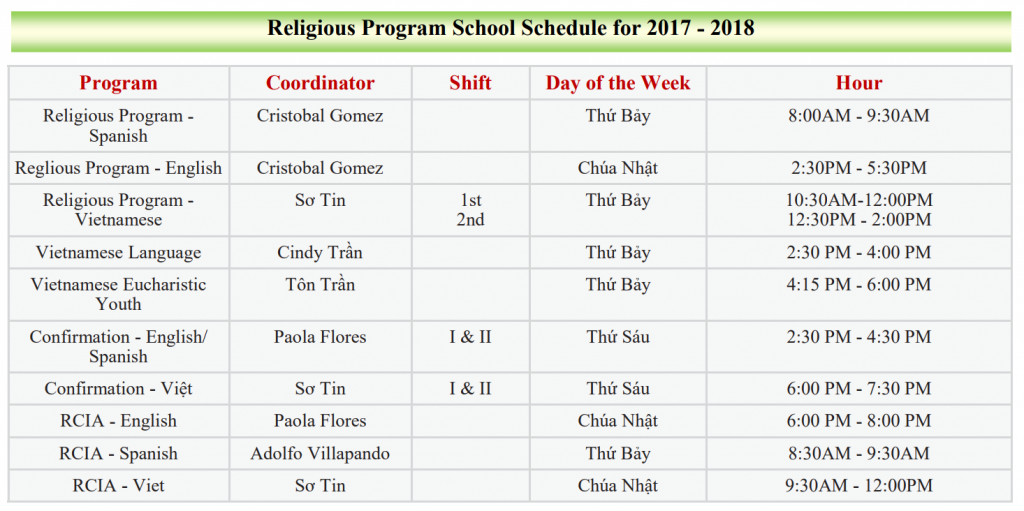 Weekdays
Monday 8:30 am: Vietnamese
Tuesday 8:30 am: Spanish
Wednesday 8:30 am: Vietnamese
Thursday 8:30 am: Spanish
Friday 8:30 am: Vietnamese
Saturday
Saturday 8:00 am: Vietnamese
Saturday 6:00 pm : Vietnamese & English
Saturday 8:00 pm: Spanish
Sunday
Sunday 6:30 am: Vietnamese
Sunday 8:30 am: Vietnamese
Sunday 10:30 am: Vietnamese
Sunday 12:30 pm: Spanish
Sunday 4:30 pm: English (Youth)
Sunday 6:30 pm: Vietnamese