BAPTISM
Our parish has monthly Baptism for Children (bilingual Vietnamese-English), from 7 years old and under, 2:00 PM – 3:00 PM, every Sunday in the second week of each month.
Mass Schedule
Saturday: 6:00PM (Vietnamese & English)
Sunday: 4:30PM Youth (English)
Wedding
Download form and things to do before wedding at Our Lady of Lavang.
Funeral
Please contact Our Lady of Lavang Office (714) 775-6200, or our pastor Joseph Luan Nguyen, extension 201.
BUILDING AND SHRINE FUNDRAISING
Why do we need to build the SHRINE and BUILDING
Welcome to Our Lady of La Vang. This is the year we celebrate our 10th year anniversary. Together our parish invite you to share our contribution especially a campaign for new building and Shrine of Our Lady of Lavang. God bless you.
Weekly Sponsors for

BUILDING AND SHRINE FUNDRAISING
Tho Tran $200
Hong Anh Thi Trinh $100
Henry Nguyen $100
Lem Pham $100
Hue Nguyen $100
Lang Nguyen $100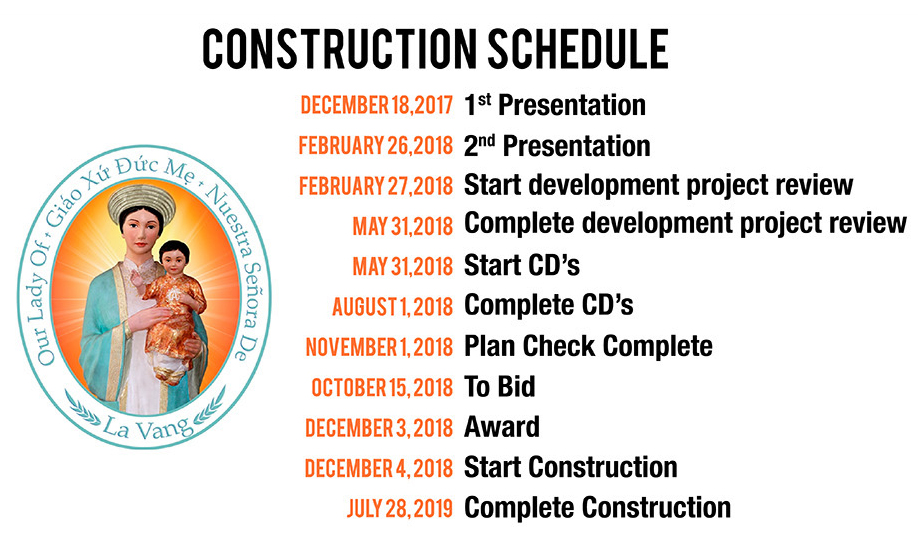 PASTOR'S CORNER
Sunday, February 10, 2019
Dear Brothers and Sisters in Christ!
The Asian New Year is over. Our parish will continue with 2019 PSA Campaign. I strongly encourage all of you to participate actively with our parish goal of $70,000 dollars. Each family, please consider donate $350 dollars. I hope that many families in our parish will participate. Please take an envelope home and bring back your donations next week. You either put the pledged envelope in the collection basket or deliver it to our parish office. May the Lord continue to bless each one of you with love peace and joy! The central theme of today's readings is God's call to a person, and the positive response to this call which leads the person to discipleship. As in our own lives, that call has three steps: 1) The revelation of God Himself, or of Jesus' identity as the One sent from God 2) The recognition and confession of one's unworthiness and inadequacy to receive this call 3) The word of reassurance from God, or Jesus, and a call to share in his life-giving mission. Today's readings tell us that God has His own criteria for selecting people to be prophets and ministers. Presenting the special calls, or vocations, of Isaiah, Paul and Peter as life-changing events, the readings challenge us to examine our own personal calls to conversion and discipleship.
Giáo Xứ sẽ có Thánh Lễ Tết Giao Thừa vào lúc 7:00pm giờ tối, thứ Hai ngày 4, tháng 2, 2019, Đức Cha Kevin Vann sẽ cử hành Thánh Lễ. Chúng ta sẽ có phần lì xì lấy lộc đầu năm. Giáo Xứ cũng sẽ có Thánh Lễ Tân Niên vào lúc 8:30am sáng thứ Ba ngày 5, thứ Tư ngày 6, và thứ...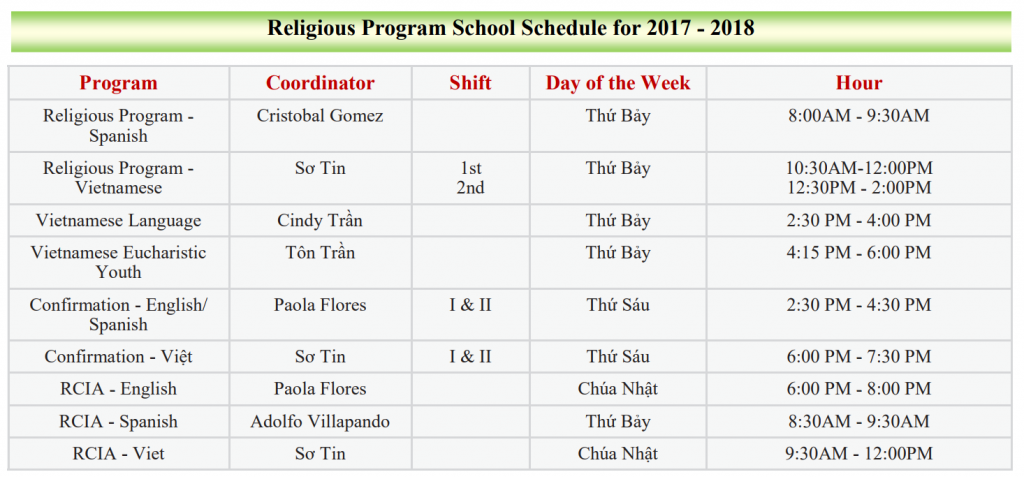 Weekdays
Monday 8:30 am: Vietnamese
Tuesday 8:30 am: Spanish
Wednesday 8:30 am: Vietnamese
Thursday 8:30 am: Spanish
Friday 8:30 am: Vietnamese
Saturday
Saturday 8:00 am: Vietnamese
Saturday 6:00 pm : Vietnamese & English
Saturday 8:00 pm: Spanish
Sunday
Sunday 6:30 am: Vietnamese
Sunday 8:30 am: Vietnamese
Sunday 10:30 am: Vietnamese
Sunday 12:30 pm: Spanish
Sunday 4:30 pm: English (Youth)
Sunday 6:30 pm: Vietnamese