BAPTISM
Our parish has monthly Baptism for Children (bilingual Vietnamese-English), from 7 years old and under, 2:00 PM – 3:00 PM, every Sunday in the second week of each month.
Mass Schedule
Saturday: 6:00PM (Vietnamese & English) Sunday: 4:30PM Youth (English)
Wedding
Download form and things to do before wedding at Our Lady of Lavang.
Funeral
Please contact Our Lady of Lavang Office (714) 775-6200, or our pastor Joseph Luan Nguyen, extension 201.
BUILDING AND SHRINE FUNDRAISING 
Why do we need to build the SHRINE and BUILDING
Welcome to Our Lady of La Vang. This is the year we celebrate our 10th year anniversary. Together our parish invite you to share our contribution especially a campaign for new building and Shrine of Our Lady of Lavang. God bless you.
Weekly Sponsors for

BUILDING AND SHRINE FUNDRAISING
Quyen Vu & Hue Vu $20,000
Dinh Thi Vinh $500
Hien Nguyen $500
Dai & Mary Nguyen $200
Thang V Phan $150
Huong Nguyen $150
Nguyet Bui & Phuc Ngo $130
Chau Hoang $100
Gia Vinh Le $100
Henry Hat Nguyen $100
Binh Tran $100
Trang Vu $100
Diane Vu $100
Nhan Chi Pham $100
Ngoan Dang & Kim Huong Nguyen $100
Man Van Tran $100
Nguyet Bui $100
Thao Doan $100
Mary Dang $100
Manh Men Nguyen $100
Sy Chi Tran $100
Lai Dinh Co $100
Hue & Nhi Nguyen $100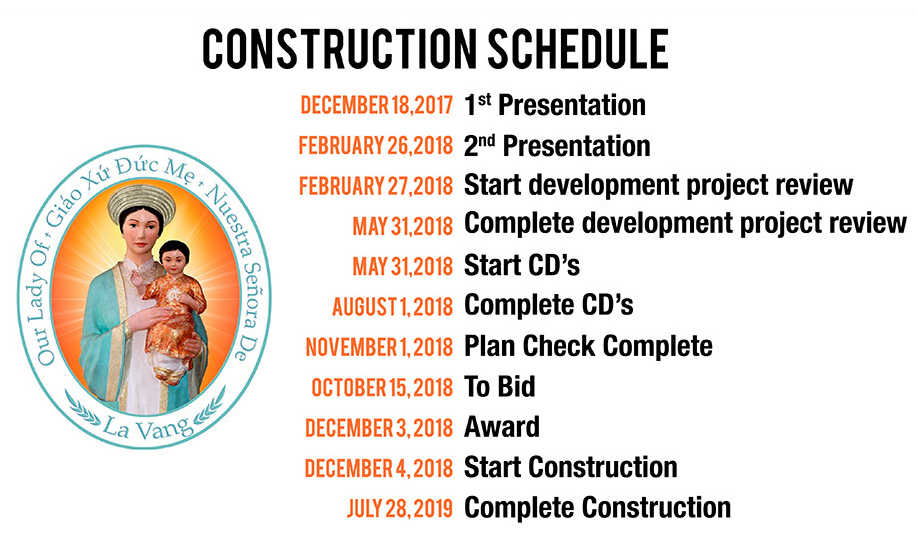 PASTOR'S CORNER
Sunday, October 14, 2018
Dear Brothers and Sisters in Christ!
During the month of October, the Vietnamese Legion of Mary of our parish recites the Rosary after 8:30 mass at the Shrine. I encourage all the families of our parish to gather before bedtime to pray together the Holy Rosary for peace and love in the world and in the family. Our Holy Father Pope Francis invites all the faithful throughout the world to make a special effort to recite the Holy Rosary to ask the Blessed Virgin Mary to intercede for our world and our society that peace, love and joy may reign in the heart of all people. Please continue to support our new building project by donating your financial support. We will begin our new building construction beginning the new year of 2019. Again, I am very grateful to all of you for your love, support and generosity to our parish. May the Lord through the intercession of Our Lady of La Vang grant you peace love and joy!Sincerely yours in Christ and Our Lady of La Vang!
Reverend Joseph Luan Nguyen, Pastor
Vigil of All Saints Day Mass will be celebrated on 10/31/2018 Mass at 5:30PM in Vietnamese Mass at 7:00PM in Spanish All Saints Day Mass will be celebrated on 11/1/2018 (Obligation) NO Confessions Mass 8:30AM in Vietnamese Mass 5:30PM in Vietnamese Mass 7:00PM in...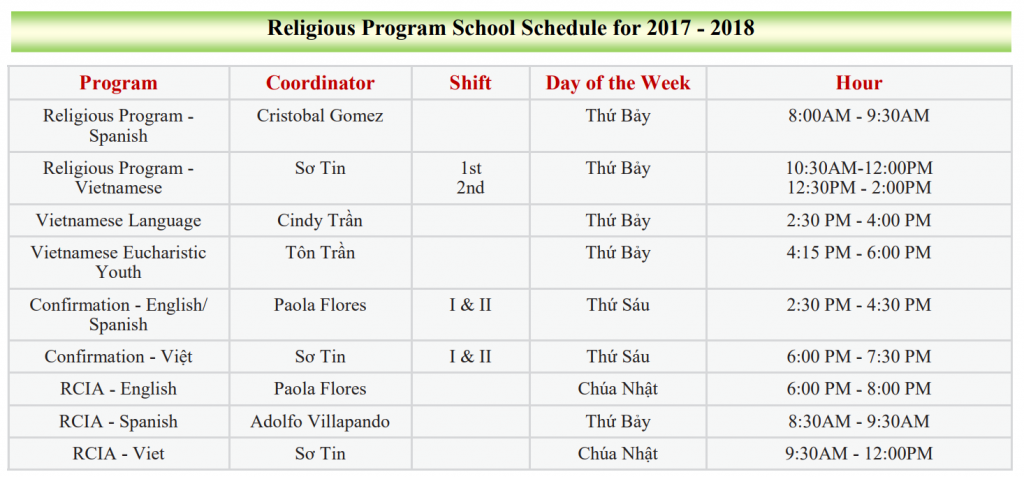 Weekdays
Monday 8:30 am:
Vietnamese
Tuesday 8:30 am:
Spanish
Wednesday 8:30 am:
Vietnamese
Thursday 8:30 am:
Spanish
Friday 8:30 am:
Vietnamese
Saturday
Saturday 8:00 am:
Vietnamese
Saturday 6:00 pm :
Vietnamese & English
Saturday 8:00 pm:
Spanish
Sunday
Sunday 6:30 am:
Vietnamese
Sunday 8:30 am:
Vietnamese
Sunday 10:30 am:
Vietnamese
Sunday 12:30 pm:
Spanish
Sunday 4:30 pm:
English (Youth)
Sunday 6:30 pm:
Vietnamese