BAPTISM
Our parish has monthly Baptism for Children (bilingual Vietnamese-English), from 7 years old and under, 2:00 PM – 3:00 PM, every Sunday in the second week of each month.
Mass Schedule
Saturday: 6:00PM (Vietnamese & English) Sunday: 4:30PM Youth (English)
Wedding
Download form and things to do before wedding at Our Lady of Lavang.
Funeral
Please contact Our Lady of Lavang Office (714) 775-6200, or our pastor Joseph Luan Nguyen, extension 201.
BUILDING AND SHRINE FUNDRAISING 
Why do we need to build the SHRINE and BUILDING
Welcome to Our Lady of La Vang. This is the year we celebrate our 10th year anniversary. Together our parish invite you to share our contribution especially a campaign for new building and Shrine of Our Lady of Lavang. God bless you.
Weekly Sponsors for

BUILDING AND SHRINE FUNDRAISING
Hang Thi Trinh $200
Tan Van Phan/Tuoi Pham $1,000
Phung Nguyen $300
Huy Dinh & Lien Nguyen $400
John Cao $2,000
Than Ba Vo $100
Paul Ly Tran $100
Tan Viet Nguyen $2,000
Nguyen Lang $100
Bach Nga Thi Phan $875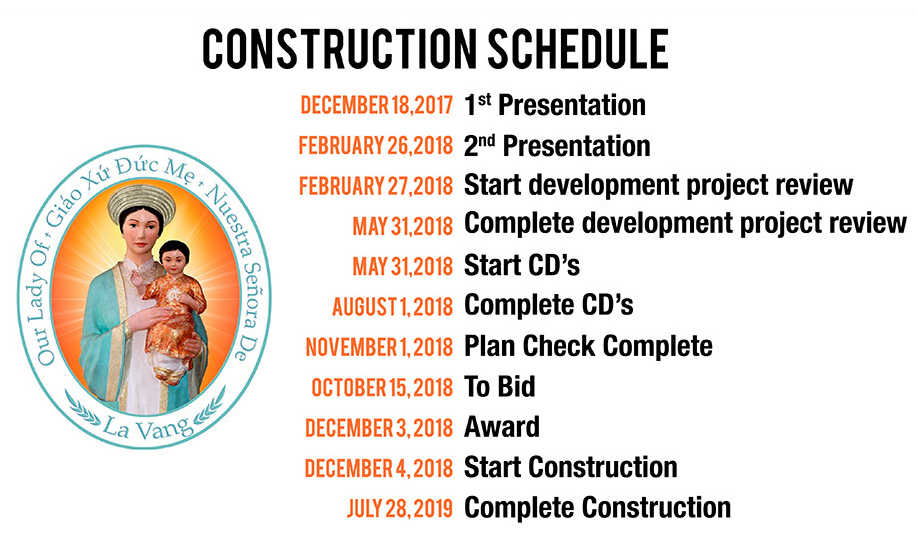 PASTOR'S CORNER
Sunday, August 19, 2018
Dear Brothers and Sisters in Christ!
Tomorrow, Monday, August 20, 2018 will be the 12th Anniversary of the dedication of our Church. Let us give thanks to our Almighty God, who has given us many blessings during these past 12 years! I want to take this opportunity to express my deepest appreciation of our former Pastor, Administrator, Parochial Vicars, Religious Sisters, Deacons, and Benefactors of our parish who have so generously donated their gifts and talents to our parish. May the Lord continue to bless all of you for your love and generosity to our parish. Today is our parish celebration! Please bring your families and invite your friends to come and join us for Vietnamese, Spanish, and American foods. The raffle drawing will take place at 3pm today so before then, please return your raffle tickets that you received in the mail with your donations. Your contributions will increase our parish funds to construct our new building and the grand Marian Shrine of Our Lady of La Vang. 
Sincerely yours in Christ and Our Lady of La Vang!
Reverend Joseph Luan Nguyen, Pastor
May God bless you in a special way today for the love and concern with which you minister to all those entrusted to your care. Wishing that your life be filled with God's good gifts, abundant joy
read more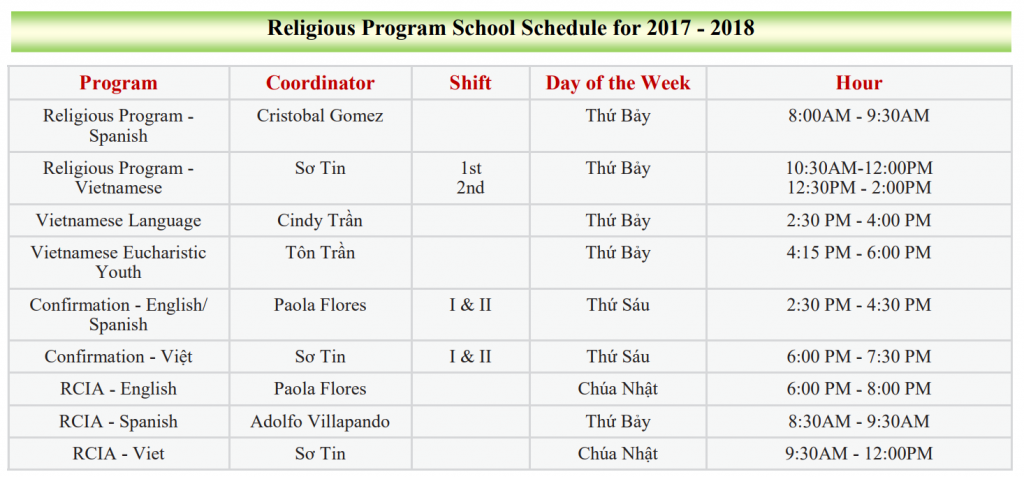 Weekdays
Monday 8:30 am:
Vietnamese
Tuesday 8:30 am:
Spanish
Wednesday 8:30 am:
Vietnamese
Thursday 8:30 am:
Spanish
Friday 8:30 am:
Vietnamese
Saturday
Saturday 8:00 am:
Vietnamese
Saturday 6:00 pm :
Vietnamese & English
Saturday 8:00 pm:
Spanish
Sunday
Sunday 6:30 am:
Vietnamese
Sunday 8:30 am:
Vietnamese
Sunday 10:30 am:
Vietnamese
Sunday 12:30 pm:
Spanish
Sunday 4:30 pm:
English (Youth)
Sunday 6:30 pm:
Vietnamese