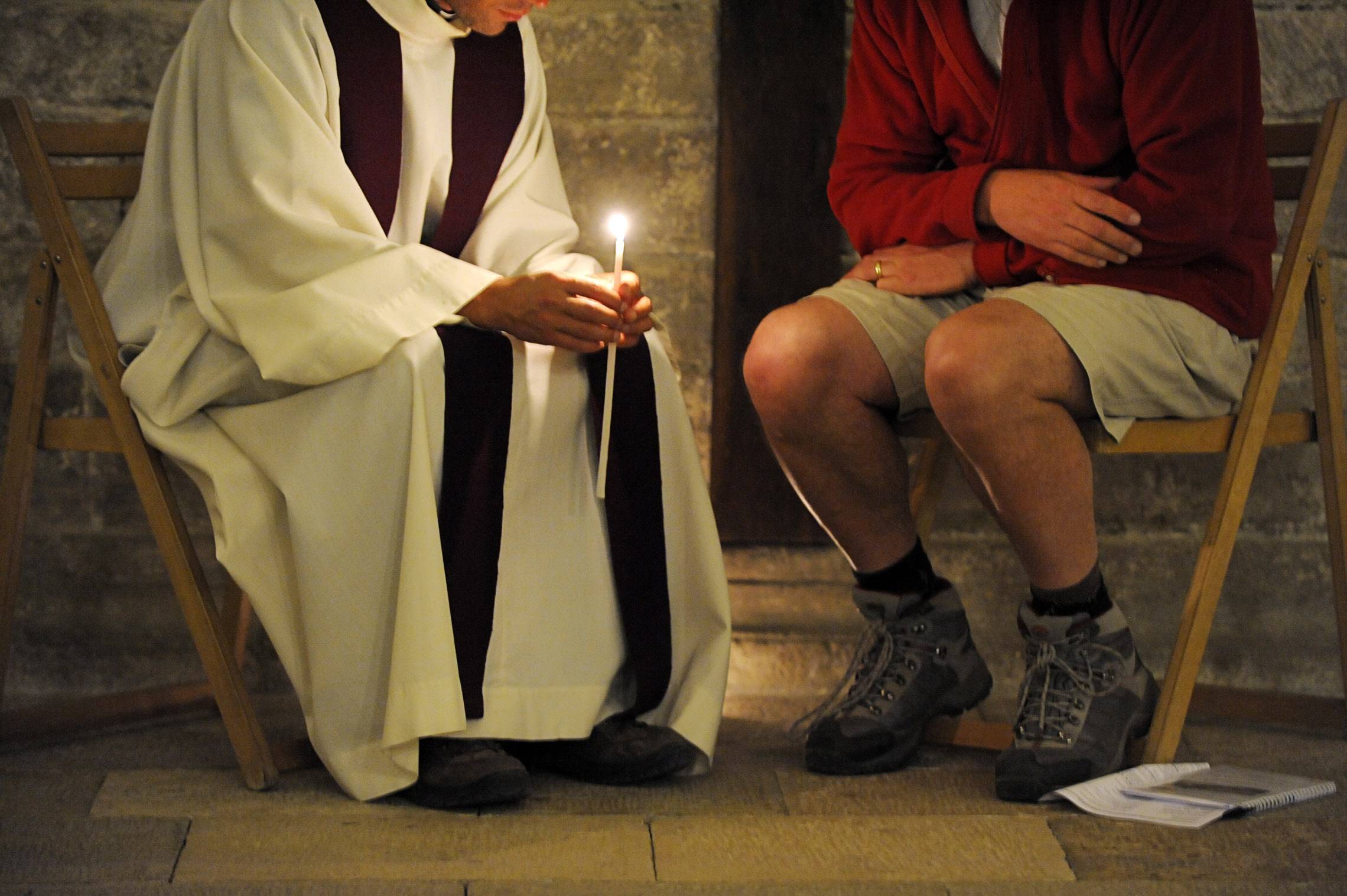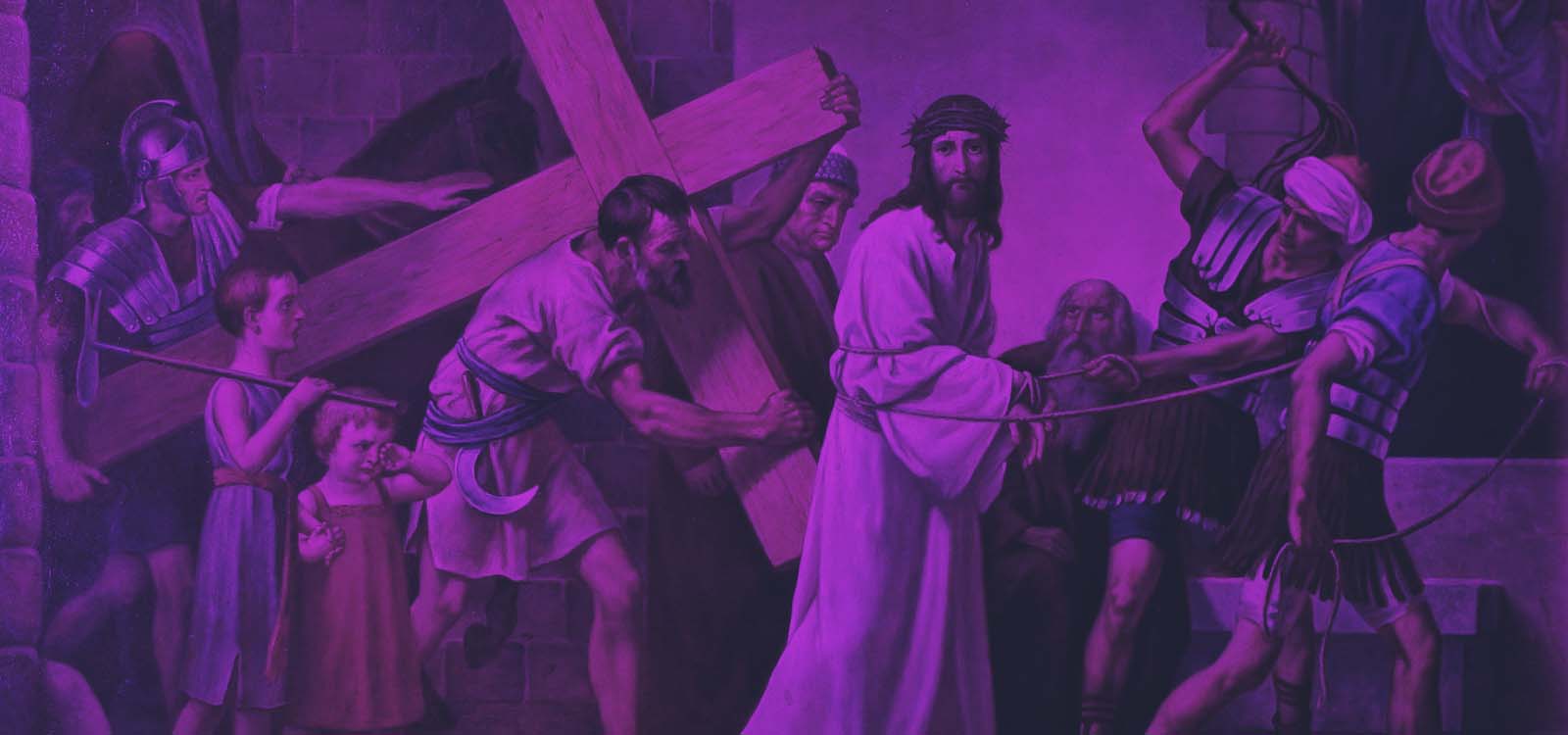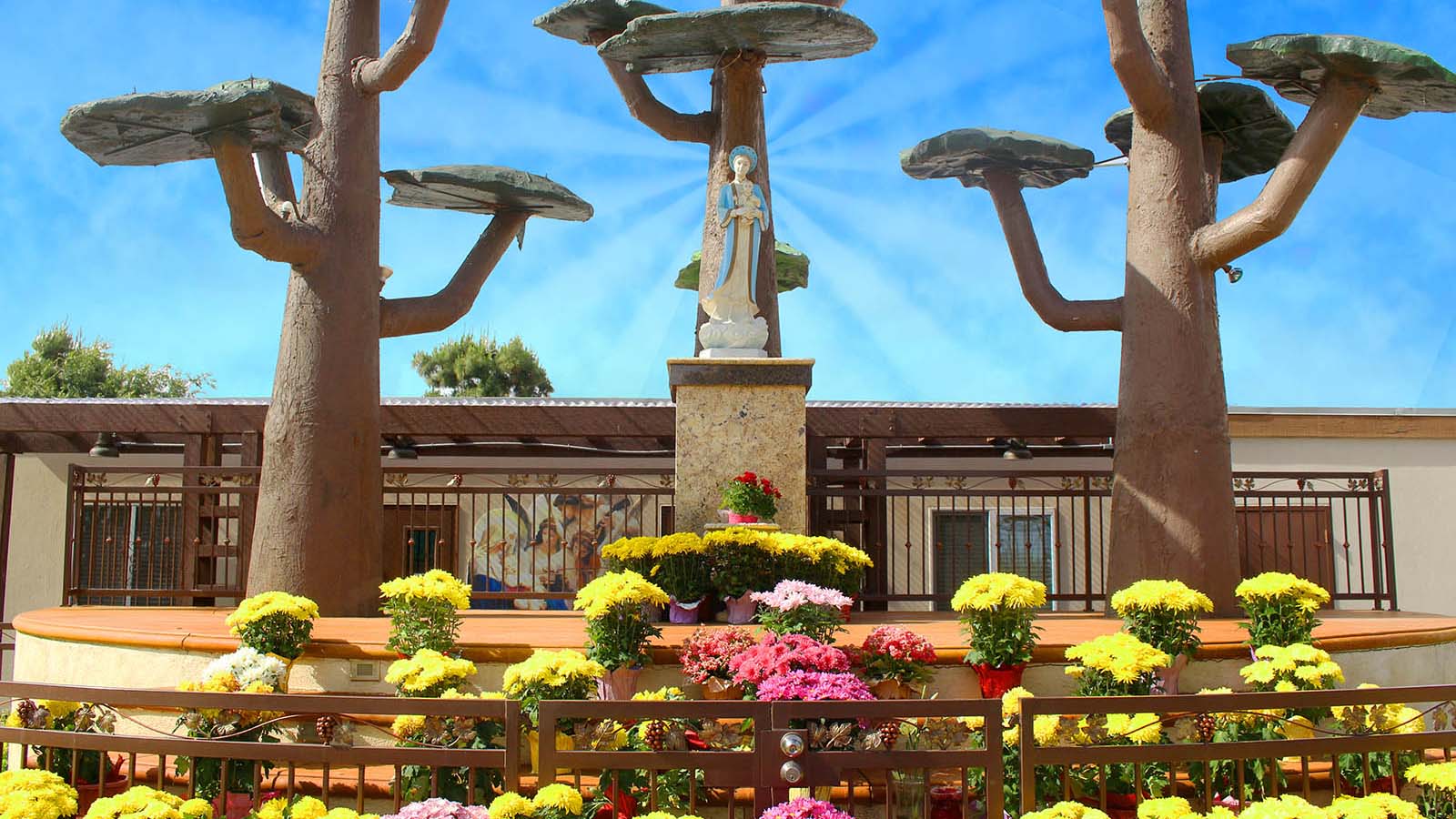 Lent Penance Service
Wednesday, March 22, 2023 at 7:00pm - 9:00pm.
Lenten Schedule
Palm Sunday 4/2/2023
6:30AM, 8:30AM, 10:30AM & 6:00PM - Mass (Vietnamese)
12:30PM - Mass (Spanish)
4:00PM - Mass (English)
Passion of the Lord on Friday 4/7/2023
3:00PM
Mass Schedule
Welcome to Our Lady of Lavang
2023 PSA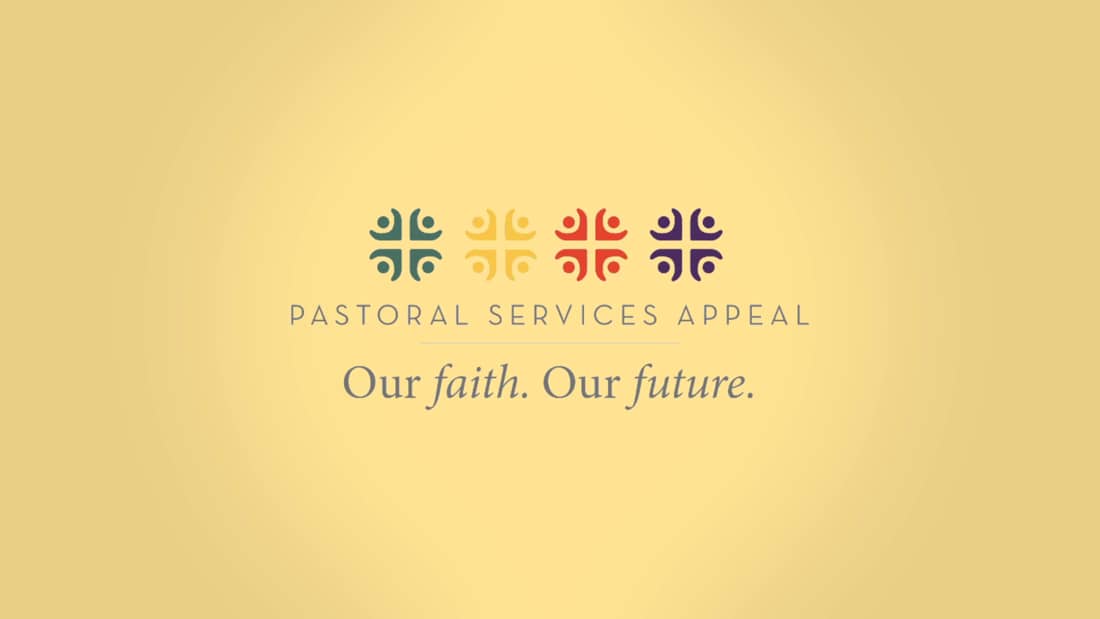 PSA CAMPAIGN FOR OUR DIOCESE OF ORANGE
Please respond generously to the PSA.
Your participation in the Pastoral Services Appeal makes a real and tangible impact on lives in our parishes, schools and communities. The very future of our faith depends on how we celebrate our blessings today and how we choose to share them. Please respond generously to the PSA. Thank you and God Bless.
BAPTISM
Our parish has monthly Baptism for Children (bilingual Vietnamese-English), from 7 years old and under, 2:00 PM – 3:00 PM, every Sunday in the second week of each month.
Mass Schedule
Saturday: 6:00PM (Vietnamese & English)
Sunday: 4:00PM Youth (English)
Wedding
Download form and things to do before wedding at Our Lady of Lavang.
Funeral
Please contact Our Lady of Lavang Office (714) 775-6200, or our pastor Joseph Luan Nguyen, extension 201.
LIVESTREAM MASS
GX Our Lady of La Vang live stream Mass schedule:
Vietnamese Mass: 8:30AM (Mon-Fri) Spanish Mass: 8:30AM (Fri) Vietnamese Mass: 8:00AM (Sat) Sunday Mass: 8:30AM
Thank you to all who joined the online Mass at Our Lady of La Vang Church in Santa Ana, California. Please support the parish by donating at https://ourladyoflavang.org/give Or send your contribution to: Our Lady of La Vang 288 S Harbor Blvd, Santa Ana, CA 92704
You can text your donation amount to (844) 953-0566.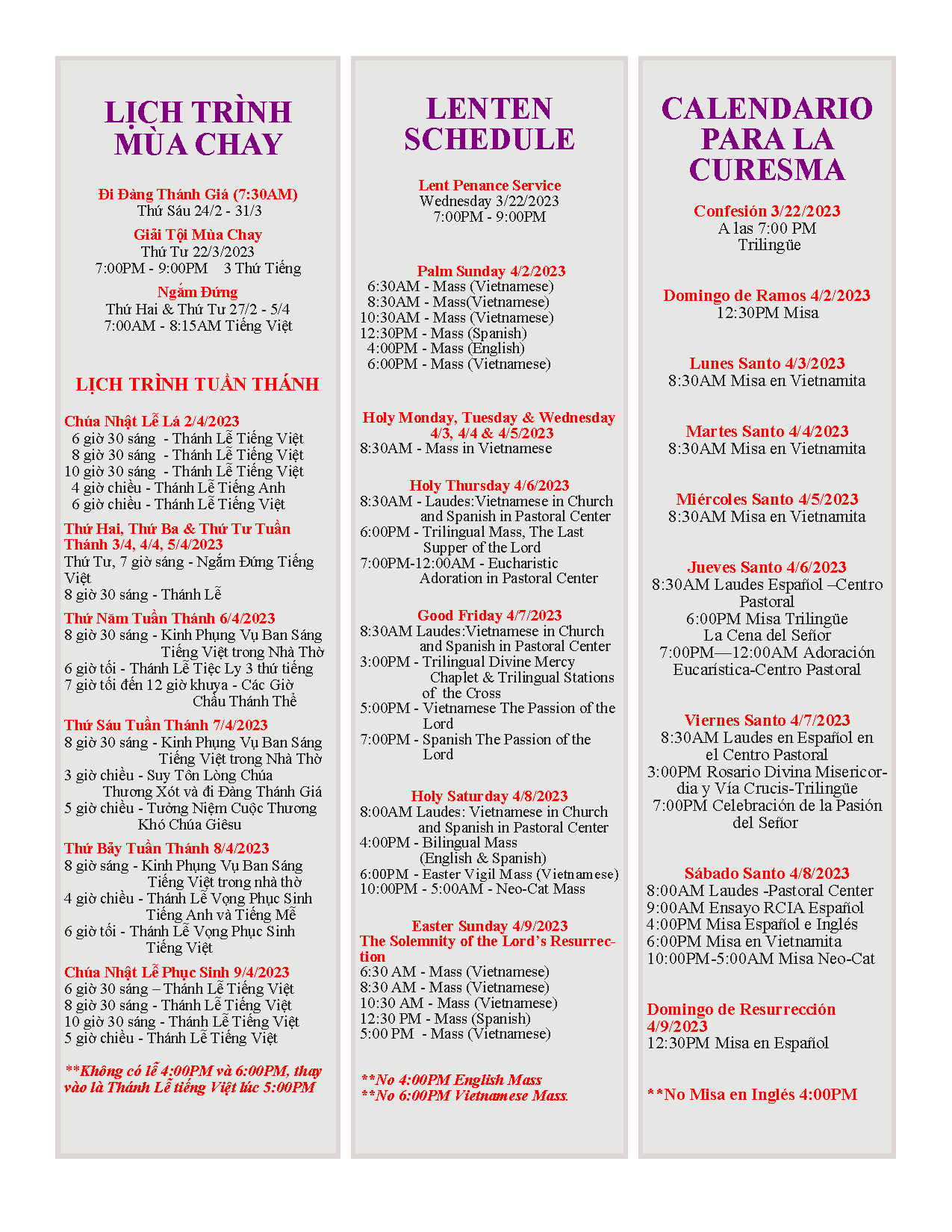 Pastor's Corner
Sunday, March 26, 2023
Dear Brothers and Sisters in Christ!
Next week will be the Palm Sunday. If you have any palms, please cut them, and bring them to our parish next Saturday for the solemnity of Palm Sunday. This coming Wednesday and Thursday March 29 and 30, there will be confession at St Barbara Church. Please come and reconcile with the Lord before Easter. The last day for our parish confession will be on Saturday April 1, at 4-5pm. There will be no confession during Holy Week. Again, I am very grateful to all of you for your love, support, for our parish
Death with hope in resurrection, is the central theme of the Scripture readings for the Fifth Sunday of Lent. Reporting his vision in the first reading, Ezekiel bears witness to the reanimation of the dead Israel in preparation for her return to the Promised Land. He assures his people that nothing, not even death, will stop God from carrying out His promise. St. Paul, in the second reading, assures the early Roman Christians who were facing death by persecution, and us who are surround-ed by a culture of death, that the same Spirit that raised Jesus from the dead and Who dwells within us will give life to our mortal bodies. He considers the Resurrection of Jesus the basis for our hope of sharing in Jesus' Resurrection. For John, in today's Gospel, the raising of Lazarus is the final and greatest sign of Jesus, the Deliverer, a symbolic narrative of his vic-tory over death at the cost of his own life and a sign anticipating his Resurrection. Describing this great miracle, the Church assures us that we, too, will be raised into eternal life after our battle with sin and death in this world. Thus, resur-rection hope is the central theme of the Scripture readings for the Fifth Sunday of Lent. The readings assure us that our Faith in Jesus, who is "the Resurrection and the Life", promises our participation in resurrection and new life.
"Roll away the stone, unbind him and let him go." We often bind ourselves with chains of addiction to alcohol, drugs, sex-ual deviations, slander, gossip, envy, prejudices, hatred, and uncontrollable anger, and bury ourselves in the tombs of des-pair. Sometimes we are in the tomb of selfishness, filled with negative feelings such as worry, fear, resentment, hatred, and guilt. If we want Jesus to visit our dark dungeons of sin, despair, and unhappiness, let us ask Jesus during this Holy Mass to bring the light and the power of the Holy Spirit into our private lives and liberate us from our tombs. Are there times when we refuse to let God enter our wallets, fearing that faithful tithing will endanger our savings? When we receive the Sacrament of Reconciliation, Jesus will call our name and command, "Come out!" This is good news for all of us: "Lazarus, come out!" This can be the beginning of a new life. We need to be ready to welcome death at any time. We live in a world that is filled with death. We kill each other in acts of murder, abortion, euthanasia, execution, war, and terrorist activities. We kill ourselves through suicide, drug and alcohol abuse, smoking, overwork, stress, bad eating habits, and physical neglect. The most important question is: am I ready to face my death? All of us know that we will surely die, but each of us foolishly thinks that he or she will not die at any time in the near future. Let us be wise, well-prepared, and ever ready to meet our Lord with a clear conscience when the time comes.
Sincerely yours in Jesus Christ and Our Lady of La Vang!
Reverend Joseph Luan Nguyen,
Pastor
Our Lady of La Vang Parish is looking for two part-time office assistants: 1. One bilingual English and Vietnamese 2. One bilingual English and Spanish Job Description: An Office Assistant, or Administrative Assistant, is...
Weekdays
Monday 8:30 am: Vietnamese
Tuesday 8:30 am: Vietnamese
Wednesday 8:30 am: Vietnamese
Thursday 8:30 am: Spanish
Friday 8:30 am: Vietnamese
Saturday
Saturday 8:00 am: Vietnamese
Saturday 6:00 pm : Vietnamese & English

Sunday
Sunday 6:30 am: Vietnamese
Sunday 8:30 am: Vietnamese
Sunday 10:30 am: Vietnamese
Sunday 12:30 pm: Spanish
Sunday 4:00 pm: English (Youth)
Sunday 6:00 pm: Vietnamese