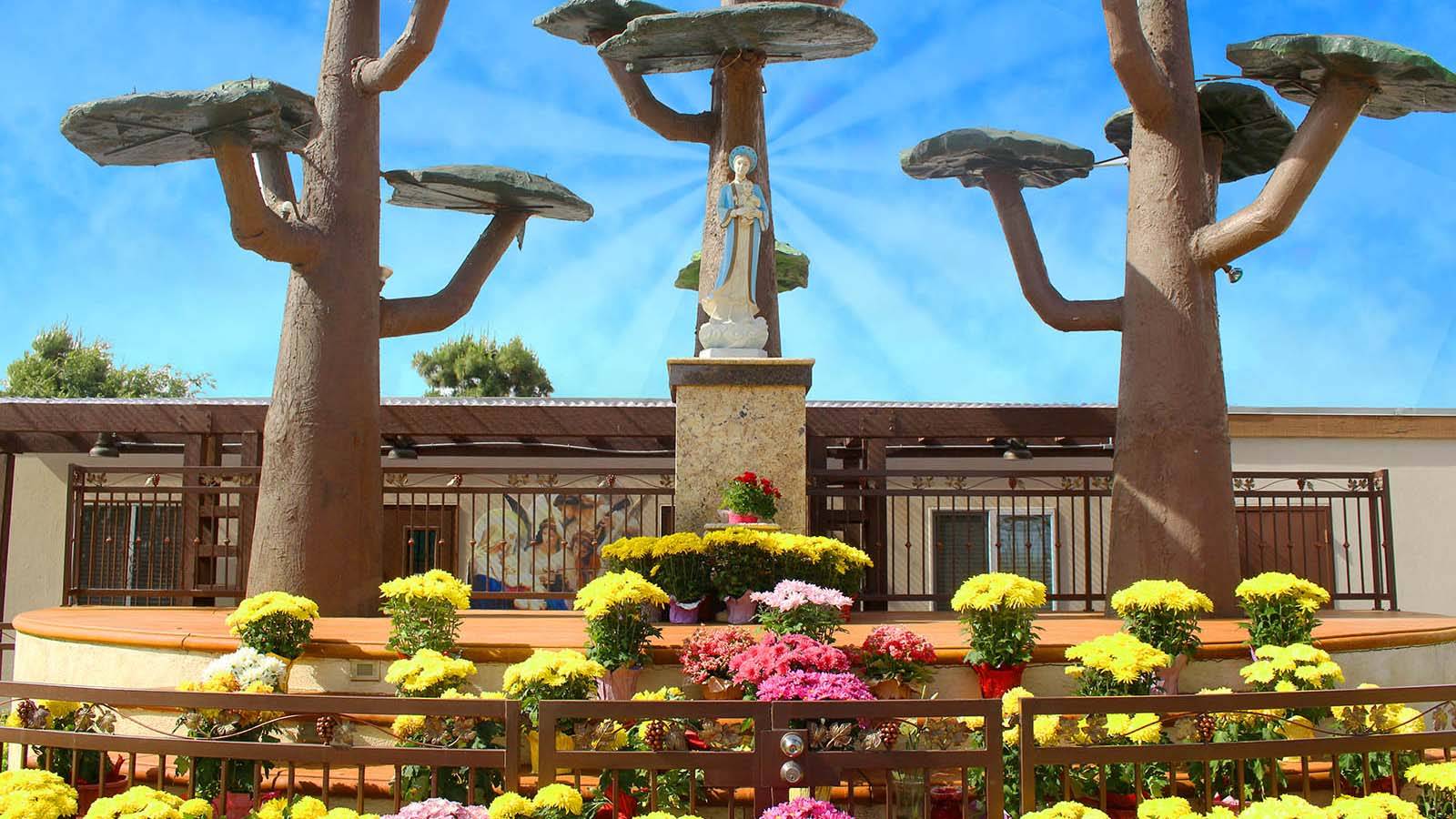 Welcome to Our Lady of Lavang

The Pastoral Services Appeal (PSA) is an annual campaign to support our parishes, schools and ministries in the Diocese of Orange. The PSA runs from January 1 to December 31 of every calendar year, and for the 2019 PSA, you have through December 31, 2019 to complete your pledge. Thank you for your generosity!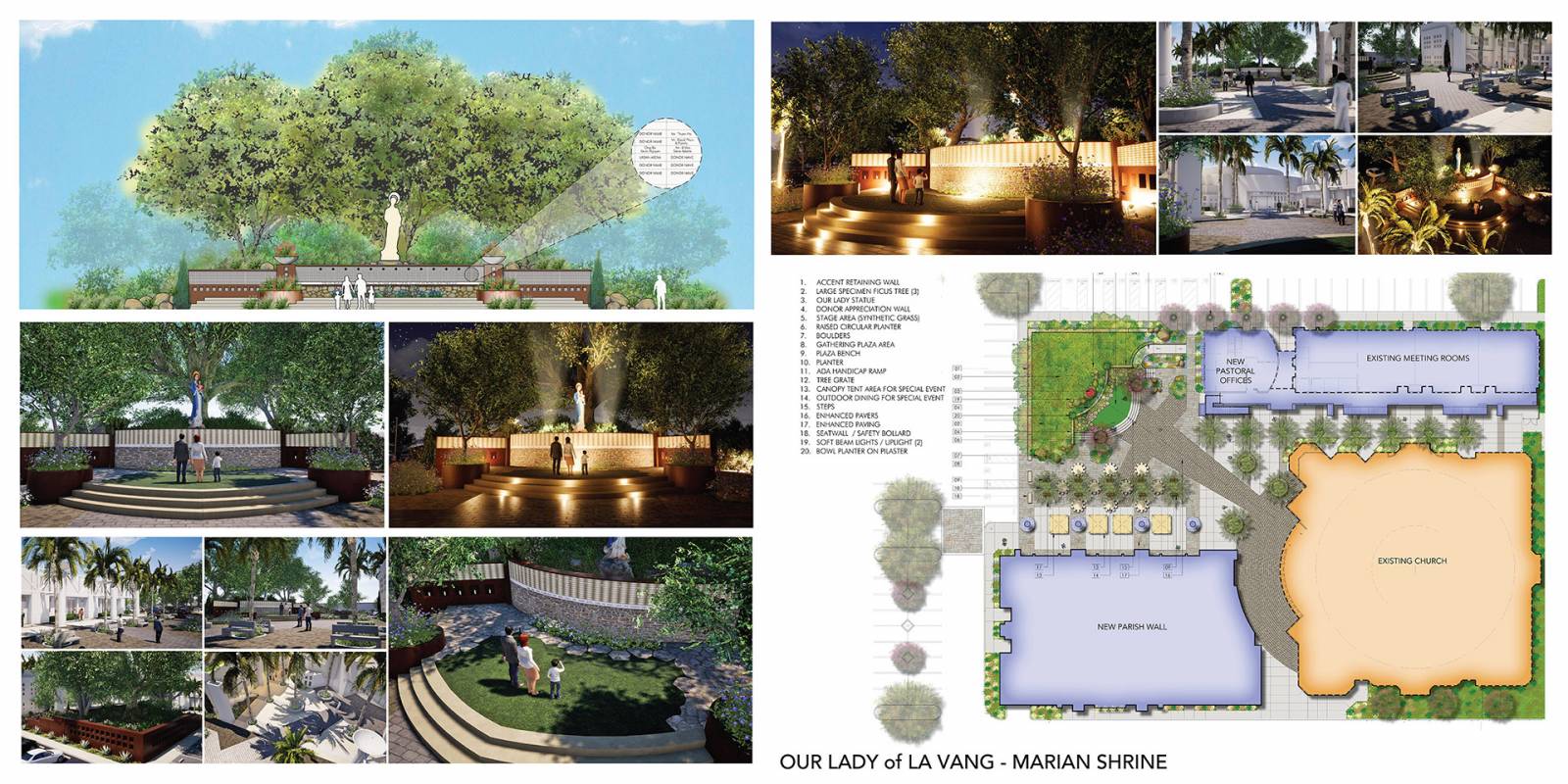 Our parish invite you to share our contribution for new building and Shrine of Our Lady of Lavang.
Lent season 2019
Mass Schedule
2019 PSA
Fundraising
BAPTISM
Our parish has monthly Baptism for Children (bilingual Vietnamese-English), from 7 years old and under, 2:00 PM – 3:00 PM, every Sunday in the second week of each month.
Mass Schedule
Saturday: 6:00PM (Vietnamese & English)
Sunday: 4:30PM Youth (English)
Wedding
Download form and things to do before wedding at Our Lady of Lavang.
Funeral
Please contact Our Lady of Lavang Office (714) 775-6200, or our pastor Joseph Luan Nguyen, extension 201.
PASTOR'S CORNER
Sunday, March 24, 2019
Dear Brothers and Sisters in Christ!
As we enter the third week of Lent, we are called to repent, change our lives, and avoid evils. On Thursday and Friday April 4 and 5, there will be two days mission conduct by Father Thinh Pham for the Vietnamese. On Monday, April 8, 2019 at 7pm, we will have our parish Lenten Confessions. Please make a special effort to be there and to be reconciled with God and others. Please continue to pledge and make contributions to PSA 2019. May the Lord continue to bless all of you with joy, peace, and love.
Ash Wednesday and Good Friday are days of fasting and abstinence. All Catholics who have reached age 18 and are not yet 60 are required to fast on these days. All Catholics who are age 14 and older must abstain from meat on Ash Wednesday and on all Fridays of Lent.
BUILDING AND SHRINE FUNDRAISING
Why do we need to build the SHRINE and BUILDING
Welcome to Our Lady of La Vang. This is the year we celebrate our 10th year anniversary. Together our parish invite you to share our contribution especially a campaign for new building and Shrine of Our Lady of Lavang. God bless you.
Weekly Sponsors for

BUILDING AND SHRINE FUNDRAISING
Hội Ái Hữu GP. Thanh Hóa $1,500
Phuong Vu $500
Henry Nguyen $200
Dang Nguyen $200
Lem Pham $100
Cong Nguyen $100
Le Nghi $100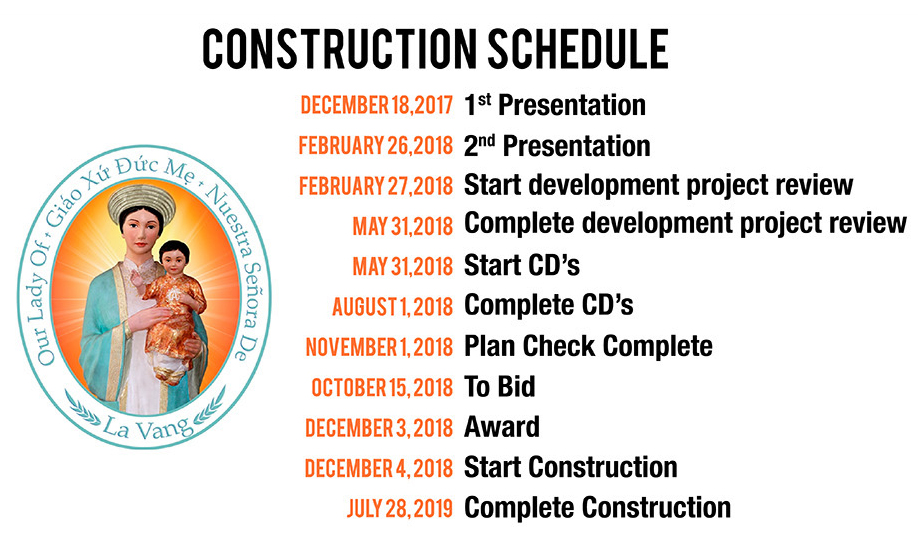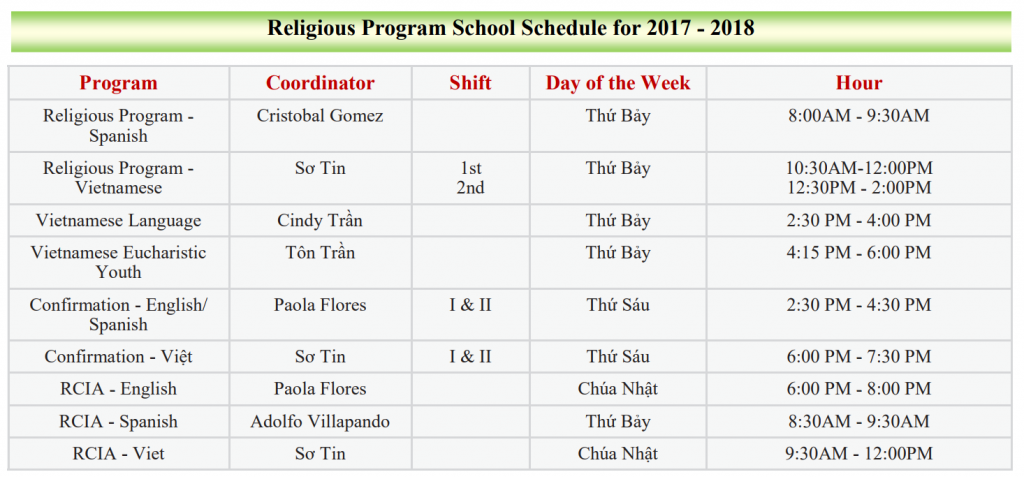 Weekdays
Monday 8:30 am: Vietnamese
Tuesday 8:30 am: Spanish
Wednesday 8:30 am: Vietnamese
Thursday 8:30 am: Spanish
Friday 8:30 am: Vietnamese
Saturday
Saturday 8:00 am: Vietnamese
Saturday 6:00 pm : Vietnamese & English
Saturday 8:00 pm: Spanish
Sunday
Sunday 6:30 am: Vietnamese
Sunday 8:30 am: Vietnamese
Sunday 10:30 am: Vietnamese
Sunday 12:30 pm: Spanish
Sunday 4:30 pm: English (Youth)
Sunday 6:30 pm: Vietnamese