Our office will close until further notice. In case of anointing of the sick, contact emergency phone: 714 454 8430
New Notices
Lent season 2019
2020 PSA
Fundraising
BAPTISM
Our parish has monthly Baptism for Children (bilingual Vietnamese-English), from 7 years old and under, 2:00 PM – 3:00 PM, every Sunday in the second week of each month.
Mass Schedule
Saturday: 6:00PM (Vietnamese & English)
Sunday: 4:30PM Youth (English)
Wedding
Download form and things to do before wedding at Our Lady of Lavang.
Funeral
Please contact Our Lady of Lavang Office (714) 775-6200, or our pastor Joseph Luan Nguyen, extension 201.
NOTICE
Beginning on Friday, March 20, 2020, all Masses, catechism classes, Vietnamese language classes as well as church activities and meetings will be temporarily suspended until further notice.
There'll be no Masses for Funeral and Wedding or Baptism until further notice
There'll be no Reconciliation/Confession services until further notice.
The chapel will be temporarily closed until further notice
The parish office will be temporarily closed until further notice.
Please keep generously contributing your weekly donations, PSA and Capital Campaign through our website, in person or by mail during this temporary shut-down CLICK HERE TO DONATE ONLINE
Sunday Masses will be livestreamed as follows:

Vietnamese Mass: 8:00 am – 9:00 am
Spanish Mass: 10:00 am – 11:00 am
English Mass: 12:00 pm – 1:00 pm
PASTOR'S CORNER
Sunday, March 15, 2020
Dear Brothers and Sisters in Christ!
Since the Bishop announced recently that Diocese of Orange masses are cancelled until further notice, we continue to have all masses on weekdays and Sundays; however, if there is a wedding or funeral or 15th there will be mass for those special events only. The office will be closed until further notice. If you need an anointing or other special needs, please contact the parish emergency phone line at 714 454 8430. Our parish will have mass live-streamed three different times on Sunday in three different languages: 8am Vietnamese, 10am Spanish and 12pm English. Please go to our parish Facebook link fb.com/ollvsa for the live-stream mass. Please continue to support our parish during this difficult time by donating online or bring your envelopes to our parish office. Please say the Holy Rosary and pray with your family members daily if you can. May the Lord through the intercession of Our Lady of La Vang help the world to overcome this pandemic and bless each one of you with peace and love!
The fourth Sunday of Lent is known as "Laetare (Rejoice) Sunday", expressing the Church's joy in anticipation of the Resurrection of our Lord. Today's readings both remind us that it is God Who gives us proper vision in body as well as in soul and Who instructs us that we should be constantly on our guard against spiritual blindness. By describing the anointing of David as the second king of Israel, the first reading, taken from the First Book of Samuel, illustrates how blind we are in our judgments and how much we need God's help. In the second reading, St. Paul reminds the Ephesians of their new responsibility as children of light to live as children of the light, producing every kind of goodness and righteousness and truth." Presenting the miracle of Jesus' giving of sight to a man born blind, today's Gospel teaches us the necessity of opening the eyes of the mind by Faith, and warns us that those who assume they see the truth are often blind, while those who acknowledge their blindness are given clear vision. In this episode, the most unlikely person, namely the beggar born blind, receives the light of Faith in Jesus, while the religion-oriented, law-educated Pharisees remain spiritually blind. To live as a Christian is to see, to have clear vision about God, about ourselves, and about others. Our Lenten prayers and sacrifices should serve to heal our spiritual blindness so that we can look at others, see them as children of God, and love them as our own brothers and sisters saved by the death and Resurrection of Jesus.
We need to allow Jesus to heal our spiritual blindness. We all have blind-spots -- in our marriages, our parenting, our work habits, and our personalities. We often wish to remain in the dark, preferring darkness to light. Even practicing Christians can be blind to the poverty, injustice, and pain around them. Let us remember, however, that Jesus wants to heal our blindness. We need to ask Him to remove from us the root causes of our blindness: namely, self-centeredness, greed, anger, hatred, prejudice, jealousy, addiction to evil habits, and hardness of heart. Let us pray with the Scottish Bible scholar, William Barclay, "God our Father, help us see Christ more clearly, love him more dearly, and follow him more nearly." We need to get rid of cultural blindness. Our culture also has blind-spots. Often it is blind to things like selfless love, happiness, fidelity with true, committed sexual love in marriage, and the value of human life from birth to natural death. Our culture has become anesthetized to the violence, the sexual innuendo, and the enormous suffering in the world around us. Let us counteract this cultural blindness by experiencing Jesus dwelling within us and within others through personal prayer, meditative reading of the Bible, and a genuine Sacramental life. Sincerely yours in Jesus Christ and Our Lady of La Vang!
Reverend Joseph Luan Nguyen, Pastor
NOTICE Beginning on Friday, March 20, 2020, all Masses, catechism classes, Vietnamese language classes as well as church activities and meetings will be temporarily suspended until further notice. There'll be no Masses for Funeral and Wedding or Baptism until further...
BUILDING AND SHRINE FUNDRAISING
Why do we need to build the SHRINE and BUILDING
Welcome to Our Lady of La Vang. This is the year we celebrate our 10th year anniversary. Together our parish invite you to share our contribution especially a campaign for new building and Shrine of Our Lady of Lavang. God bless you.
Weekly Sponsors for

BUILDING AND SHRINE FUNDRAISING
Long Nguyen $1,000
Thom Tran $500
Viet Nguyen $300
Tran Dan $200
Feynman Le $100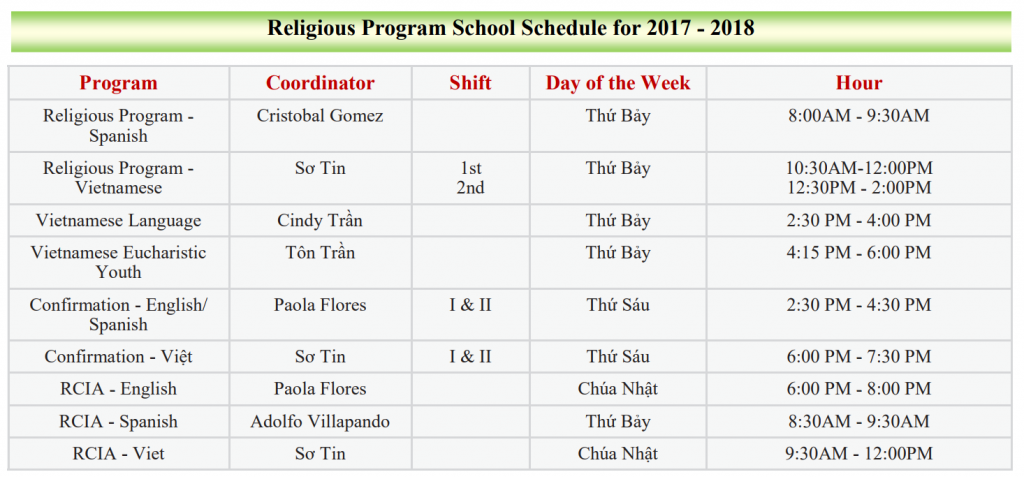 Weekdays
Monday 8:30 am: Vietnamese
Tuesday 8:30 am: Spanish
Wednesday 8:30 am: Vietnamese
Thursday 8:30 am: Spanish
Friday 8:30 am: Vietnamese
Saturday
Saturday 8:00 am: Vietnamese
Saturday 6:00 pm : Vietnamese & English
Saturday 8:00 pm: Spanish
Sunday
Sunday 6:30 am: Vietnamese
Sunday 8:30 am: Vietnamese
Sunday 10:30 am: Vietnamese
Sunday 12:30 pm: Spanish
Sunday 4:30 pm: English (Youth)
Sunday 6:30 pm: Vietnamese