(Move mouse over to pause the message)
| | |
| --- | --- |
| Reponsorial Psalm | Lord, I love your commands |
| | |
| --- | --- |
| Pastor's Corner | July 27, 2014 |
Dear Parishioners of Our Lady of La Vang Church,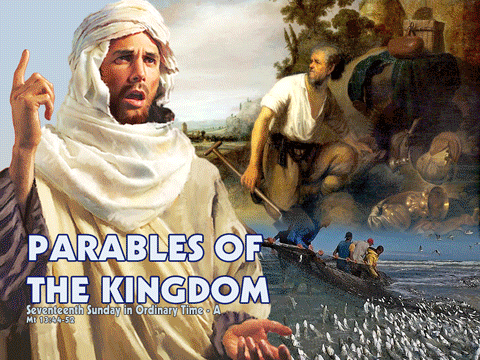 This weekend is our last Garage Sale. Together with Father Bao Thai, I would like to thank all members of our Vietnamese Council, Spanish Ministries and all volunteers who have worked very hard for the benefit of our parish. I also want to express our deepest gratitude to those who have brought their goods to our parish for the Garage Sale. May God through the intercession of Our Lady of La Vang intercede for all of us the grace we need in order to do our best. Please also help our parish by purchasing the raffle tickets 2 dollars each.
Today's readings teach us that accepting Jesus as our God and Savior and sacrificing everything in life to do the will of God are equivalent to discovering and possessing the most valuable treasure or the pearl of great price. In other words, keeping a personal relationship with Christ and sharing his view of life are the most beautiful, the most precious things in the world. The first reading tells us how the young King Solomon opted for the great treasure of accepting God to rule his life by doing God's will. That is why he asked God for "an understanding heart" to distinguish right from wrong, so that he might govern the people properly. Yahweh was pleased with his request and granted him a wise and discerning heart which enabled him to surpass everyone in wisdom. In the second reading, Paul teaches that God is calling us through various stages of spiritual growth like predestination, call, justification and glorification. It is our duty to cooperate with God's grace, to grow in to personal relationship with Jesus, our greatest treasure. Paul assures Rome's Christian community that "all things work for good for those who love God, who are called according to His purpose." In the Gospel, Jesus teaches that God's Kingdom (the rule of God in us, accepting Jesus as our God and Savior and putting our Faith in him, doing His will), is something of extraordinary value, like a hidden treasure or costly pearl, and that its possession calls for total commitment. The Kingdom of God is God's reign in our hearts, in our lives, in our homes, in our society, and in our world. Only those who develop a discerning mind and are willing to give up everything for the great treasure of God's Kingdom will be rewarded. Through the first and second parables of the treasure and pearl Jesus teaches us that identifying God's will with His help and living according to the Gospel are the most precious and worthwhile things in life. Through Jesus and his Gospel we come to know and understand what the real meaning of life is and what the most important things in life are, which would secure our eternal salvation.
We should live every moment in view of our precious goal. Most of the time, we are chasing false treasures such as money, social status or worldly pleasures. Thus, the really valuable pearl of sharing in God's life through Jesus here on earth and later in Heaven, is never found. Let us always remember that Heaven is within the reach of all of us who try to do the will of God, following the ordinary vocations of life and enjoying this world's joys and pleasures within the framework of God's Commandments. They are already living in the Kingdom of Heaven while they are still on earth.
Your humble servant in the Lord our Good Shepherd and Our Lady of La Vang
Reverend Joseph Luan Nguyen - Pastor
Capital Campaign for Parish & Diocese Update