GARAGE SALE 2014
July 10-13, 2014.

(This slide show has 47 pictures)
Mừng Sinh Nhật Cha Chánh Xứ Nguyễn Văn Luân
& Cha Phó Xứ Thái Quốc Bảo

(This slide show has 106 pictures)
GARAGE SALE 2014
Giáo Xứ sẽ có 2 đợt bán Garage Sale năm nay, đó là 2 tuần lễ liền sau ngày Lễ Độc Lập Hoa Kỳ.
‐ Thứ Năm, Sáu, Bảy, và Chúa Nhật, ngày 10, 11, 12, và 13, tháng 7 năm 2014

‐ Thứ Năm, Sáu, Bảy, và Chúa Nhật, ngày 17, 18, 19, và 20, tháng 7 năm 2014
Xin qúi vị mang đến đóng góp những đồ cũ còn dùng được để giúp giáo xứ kỳ này: Đồ đạc cho em bé, Quần áo còn tốt, Đồ điện tử, TV nhỏ còn coi được, máy hút bụi còn tốt, Quạt Máy còn chạy được, Vật dụng làm vườn, Vật dụng trong nhà, Đồ dung nhà bếp, Chậu hoa hay cây cảnh, Bàn ghế, Đồ chơi an toàn và có tính cách giáo dục, Đồ đạc trong nhà, Vải.
Xin miễn nhận nệm giường, bàn ghế quá lớn, TV có màn ảnh quá lớn, máy giặt máy sấy
. Cần giáo xứ đến nhà quý vị chở đồ ra nhà thờ, xin gọi:
ông Thi: 714-867-3309; hoặc, ông Vinh: 714-478-9327.
CẦN THIỆN NGUYỆN VIÊN GHI DANH
Giáo xứ cần nhiều qúi vị hy sinh 3 tiếng đồng hồ trong tuần bán Garage Sale. Thứ Bảy, ngày 5 tháng 7, cần qúi vị giúp sắp xếp lều tr ắng và bàn ghế cho các bà mẹ bán đồ ăn. Sắp bàn ghế, quầy thâu ngân, bắt đèn điện trong lều bán, chia khu vực để đồ. Thứ Hai, Ba, Tư, ngày 7, 8 & 9 tháng 7, cần qúi vị giúp mang đồ từ tr ong kho ra ngoài lều, lựa đồ theo nhóm, sắp xếp đồ theo khu vực. Lựa theo đề mục: Quần áo, sách vở, đồ điện tử, TV, bàn, ghế, tủ. Thứ Năm, Sáu, Bảy và Chúa Nhật, ngày 10, 11, 12 & 13 tháng 7, cần qúi vị chào đón khách mua với nụ cười tươi và giúp dọn dẹp đồ để lại ngăn nắp theo khu vực, do khách mua tìm lựa đồ, nên đồ bị để lung tung. Giáo xứ đãi cơm nước trưa và chiều. Xin qúi vị hy sinh 3 tiếng và ghi danh sau các thánh lễ.
Xin chân thành cám ơn!
Reponsorial Psalm
Lord, you are good and forgiving
| | |
| --- | --- |
| Pastor's Corner | July 20, 2014 |
Dear Parishioners of Our Lady of La Vang Church,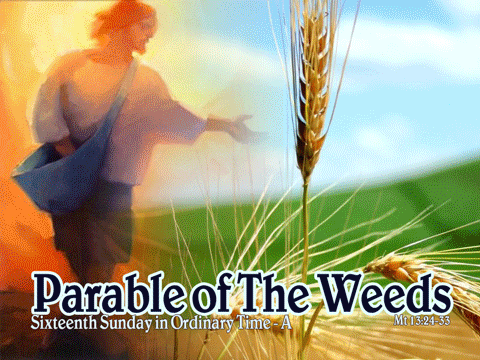 This weekend, we still continue to have Garage Sale at our parish. Please continue to invite your friends and neighbors to support our Annual Garage Sale. We also want to thank those who have donated your items for Garage Sale and for the volunteers who have worked very hard for our parish. May the Lord bless and reward each one of you for your gifts and talents that you shared with our parish. Today's readings tell us about a very patient and compassionate God who is hopeful that the so-called "weeds" among us will be converted. They warn us that we should not be in a hurry to eliminate such elements from the Church or society or the family on the basis of unwarranted and hasty judgment. The first reading shows us a merciful and patient God, rather than the disciplining and punishing God presented in the book of Genesis. The second reading reminds us that the Spirit of God goes on empowering us in our prayers and in our weakness. So we should be patient with ourselves and others.
Finally, in the Gospel parable of the wheat and the weeds, Jesus presents a wise and patient God who allows the good and the evil to coexist in the world and blesses the evil ones for the little good they may have done, so that the evil ones may come to conversion before their time ends. "Let the seed and the darnel grow together till the harvest time." In other words, God awaits repentant sinners, giving them the strength to acknowledge their weakness. He calmly recognizes that there is evil in the world, but He sees that evil as no excuse for the good people not to do good with the power of God at their disposal. Through the parable of the wheat and the weeds in today's Gospel, Jesus calls us to be patient with those who fail to meet the high ethical standard expected of a Christian.
We need to practice patience and show mercy. Let us patiently and lovingly treat the "weeds" in our society as our brothers and sisters and do all in our power to put them back on the right road to heaven, especially by our good example and our fervent prayer for their conversion. Most of us have been weeds in God's field more than once, and God has showed us mercy. God is so merciful that He allows evil to exist in order that what is good may grow. He allows evil to exist also because He can turn it into good. Through the power of the Spirit, God can change even the ugliest thorn into a blossom of faith. In God's field we have two responsibilities: to grow in grace and to share His Word and love with others.
Your humble servant in the Lord our Good Shepherd and Our Lady of La Vang
Reverend Joseph Luan Nguyen - Pastor
Capital Campaign for Parish & Diocese Update