BAPTISM
Our parish has monthly Baptism for Children (bilingual Vietnamese-English), from 7 years old and under, 2:00 PM – 3:00 PM, every Sunday in the second week of each month.
Mass Schedule
Saturday: 6:00PM (Vietnamese & English)
Sunday: 4:30PM Youth (English)
Wedding
Download form and things to do before wedding at Our Lady of Lavang.
Funeral
Please contact Our Lady of Lavang Office (714) 775-6200, or our pastor Joseph Luan Nguyen, extension 201.
BUILDING AND SHRINE FUNDRAISING
Why do we need to build the SHRINE and BUILDING
Welcome to Our Lady of La Vang. This is the year we celebrate our 10th year anniversary. Together our parish invite you to share our contribution especially a campaign for new building and Shrine of Our Lady of Lavang. God bless you.
Weekly Sponsors for

BUILDING AND SHRINE FUNDRAISING
Thien Duc Dinh/Yen Thi Vu $100
Dai & Mary Nguyen $100
Phi Xuan $100
Thang V Phan $150
Phillip P Tran $100
McVictory Ngo $241.72
Jose Javier Alverez $43
Isabel M Marquez $65
Vu Tran $20
Phat X Vu $30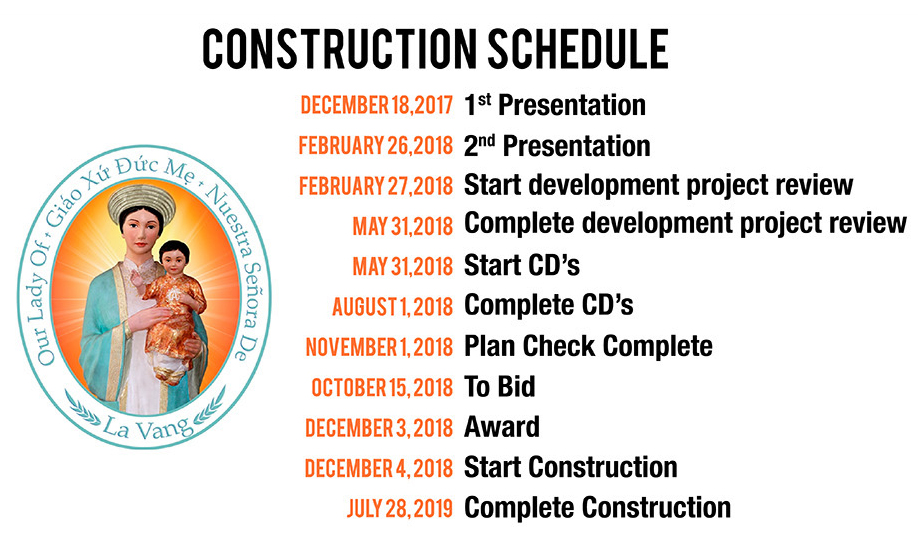 PASTOR'S CORNER
Sunday, January 20, 2019
Dear Brothers and Sisters in Christ!
Tomorrow, Monday, January 21, is the national holiday in observance of Dr. Martin Luther King Jr.'s birthday (January 15, 1929). Our parish office will be closed and will reopen on Tuesday. The end of this month January 29, 2019, there will be a World Youth Day in Panama. Pope Francis will be there with the youth of the world. Please pray for the safety of our Holy Father and the youth who will be attending the World youth Day. Please continue to support our new building project the Shrine of Our Lady of La Vang. May the Lord, through the intercession of Our Lady of La Vang bless each one of you with peace love and joy!
Giáo Xứ sẽ có Bí Tích Rửa Tội cho các em nhỏ vào lúc 2:00PM Chúa Nhật ngày 10 tháng 2, 2019. Lớp hướng dẫn cho Cha Mẹ và người Đỡ Đầu sẽ vào ngày thứ Ba, 22 tháng 1, 2019 lúc 7:00PM tối. Xin quý Cha Mẹ đến đúng giờ. Xin cám...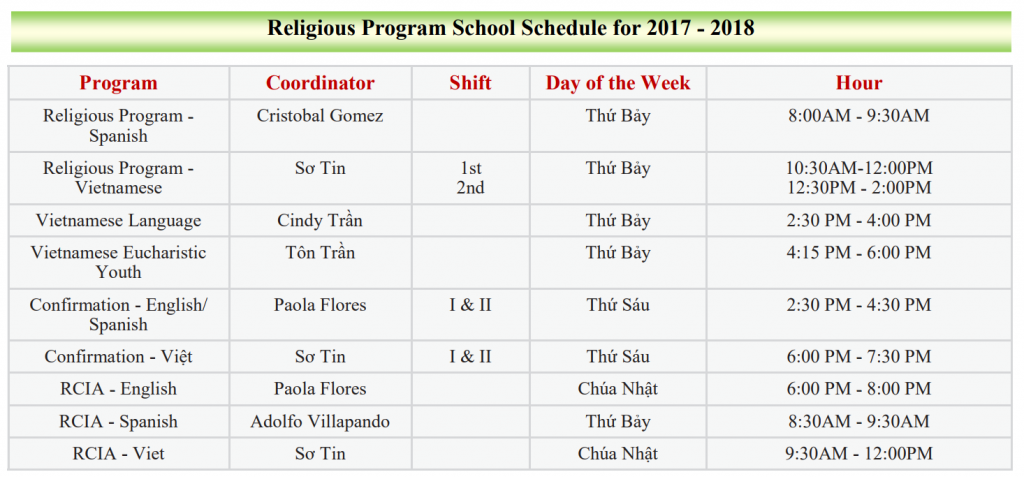 Weekdays
Monday 8:30 am: Vietnamese
Tuesday 8:30 am: Spanish
Wednesday 8:30 am: Vietnamese
Thursday 8:30 am: Spanish
Friday 8:30 am: Vietnamese
Saturday
Saturday 8:00 am: Vietnamese
Saturday 6:00 pm : Vietnamese & English
Saturday 8:00 pm: Spanish
Sunday
Sunday 6:30 am: Vietnamese
Sunday 8:30 am: Vietnamese
Sunday 10:30 am: Vietnamese
Sunday 12:30 pm: Spanish
Sunday 4:30 pm: English (Youth)
Sunday 6:30 pm: Vietnamese